No person or thing could have rejuvenated Wexford hurling in the way that Davy Fitzgerald has, Tommy Walsh told Thursday's OTB AM.
Walsh was speaking to Eoin Sheahan and Kieran Donaghy on Thursday's show and said that while people will always find issue with Fitzgerald's tactics there can be no disputing his extraordinary transformation of Wexford hurling.
"I'll tell you what Davy Fitz has done, nevermind the tactics", Walsh explained. "What he has brought, there is no amount of coaching or there is or no amount of anything that could bring what he is after bringing to Wexford."
And it isn't just success with the senior panel that Walsh attributes to Fitzgerald's management.
In addition to a first Leinster Championship win in 15 years, Fitzgerald has also played a role in all the other successes of the county in hurling over the past three years, Walsh said.
"They are after winning their first minor Leinster final since I think 1985, they are winning underage, they are in the U20 Leinster final, they are in the U20 All-Ireland semi-final now again. So what he has brought [is huge]."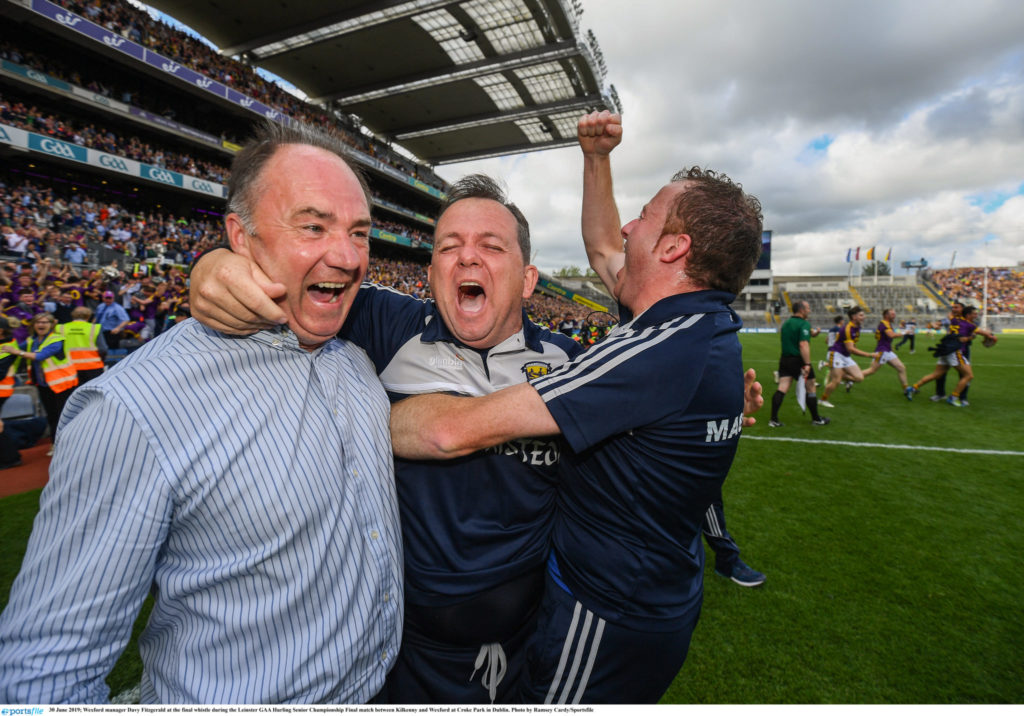 Walsh also explained that when he is in Wexford now it's obvious that the whole county is engaging with the sport in a way similar to Kilkenny and Tipperary, where children "have the hurls out from three or four years of age".
"The Kerry lads are the same way if they are walking to school or walking down to the shop; they are tipping a football up with their foot. That's what's happening in Wexford at the moment and Davy Fitz has been massive with regards to that", Walsh explained.
"You can't beat winning things because that brings the confidence and it brings the kind of 'yes we have done it'. So, no matter what happens at the end of the year now, Davy Fitz's reign in Wexford has been an absolutely wonderful time.
"He has energised the whole county, rejuvenated it."
While Fitzgerald is reaping the benefits of the county's current success in hurling, Walsh also paid credit to the role played by former inter-county manager Liam Dunne.
"Liam Dunne really put down a massive foundation with regard that there's no messing anymore. You work hard. If you play with Wexford you need to be a proud guy and that they are going to train the very same as the Kilkennys, the very same as the Tipperarys."
It was from that base, Walsh said, that Fitzgerald was able to cultivate the county's enthusiasm and bring hurling to the forefront.
"Certain guys have that ability that they can bring all around them together, shooting for the one cause. Enthusiasm is the word and definitely, Davy has done that."
Turning his mind towards predictions, Walsh said that Wexford's fortunes will be reliant on what version of Tipperary show up.
In the first weeks of the Munster round-robin, Walsh said, Tipperary looked "untouchable" but as the Championship has transpired the Munster men have looked lethargic.
"If they turn up like that, lacking energy, I think it will be Wexford's day."
As well, Walsh noted that when Lee Chin and Rory O'Connor are on form "they can win any match even against top opposition".
"I think they only missed two chances in the Leinster final. So they do bring a savagery to it."
Download the brand new OTB Sports App in the Play Store & App Store right now! We've got you covered!
Subscribe to Off The Ball's YouTube channel for more videos, like us on Facebook or follow us on Twitter for the latest sporting news and content.