As he reflected on his inter-county career with Kilkenny, former Hurler of the Year Eoin Larkin discussed the fierce rivalry with a Cork team that were their own undoing on Thursday's OTB AM. 
The standard-bearers of excellence, when Cork's hurlers were busying themselves with internal battles, Kilkenny were winning All-Ireland titles.
Almost 15-years after Cork last won the Liam MacCarthy Cup, Eoin Larkin has fair reason to believe that the players' strikes of the 2000s ultimately diminished the county's hopes of competing with his Kilkenny side.
"I genuinely think the strikes and all that set Cork back a good few years," he suggested on Thursday's OTB AM. "I was thinking, 'What's the point?' You either want to hurl for Cork or you don't."
"All we wanted to do was hurl for Kilkenny, represent Kilkenny and our clubs. It just seemed to be so different down there.
"People will argue that they didn't have everything that we had, but we had very little. We had meals after training, but that was it.
"Saying that, anything we wanted the Kilkenny county board got for us. It wasn't anything massive, but Brian would usually tell them what we needed or wanted, it would never come from the players."
Brian has cut lads from the panel and he'd always say that the team and Kilkenny were bigger than any one person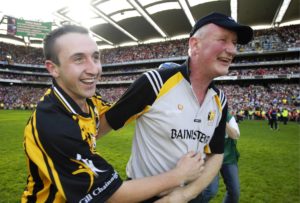 A county set-up that appeared antithetical to what was occurring in Cork at the time, the totemic figure of Brian Cody ensured that no such uprising was likely to occur in Kilkenny.
What was perceived as an unhelpful stance in certain quarters, Donal Óg Cusack, one of the Cork players who was instrumental in the strikes, memorably likened his Kilkenny counterparts' conformity to that of the Stepford Wives.
"He wouldn't have had a very long inter-county career in Kilkenny," reckoned Larkin when asked how Cusack would have fitted into Cody's plans. "As we've seen over the years, Brian has cut lads from the panel and he'd always say that the team and Kilkenny were bigger than any one person.
"Careers will come and go but your job here is to leave the jersey in a better place than when you got it. He believes in that system and who are we to argue with it?"
Although the fierce rivalry between both counties subsided as Cork dealt with their internal issues, Eoin Larkin doesn't necessarily believe that Kilkenny would have been unduly damaged had Cork managed to keep pace with them.
"Maybe they were [on a par with us], and maybe we would have went toe-to-toe," he admitted, "but do I think they would have beaten us any more than they did? I don't think so.
"The team that we had at the time was unbelievable. We were so mentally driven, not just to do it for ourselves but for everyone else.
"We were friends and wanted to do it for each other. There may possibly have been closer games but I don't think they'd have taken any of the All-Irelands."
You can listen back to Eoin Larkin's interview with Off the Ball in its entirety here. 
Download the brand new OTB Sports App in the Play Store & App Store right now! We've got you covered!
Subscribe to Off The Ball's YouTube channel for more videos, like us on Facebook or follow us on Twitter for the latest sporting news and content.