As Fionn Davenport put it on this week's Golf Weekly podcast, Tiger Woods is like "an enigma wrapped up in a mystery". 
For all the words written and spoken about the sport's biggest star, there is still the feeling that few people know the real Woods, who has spent most of his career distant from other golfers when off the course.
Someone who has spent a considerable amount of time with him on the course, however, is Ronan Flood, caddie to Padraig Harrington.
Harrington played alongside Woods throughout his career in Ryder Cups and majors, particularly during the late 2000s when both were at the pinnacle of the sport.
Joining this week's Golf Weekly to preview the US Open, Flood provided an insight into playing alongside one of golf's most interesting characters.
"You didn't see much of him outside the golf course," Flood explained.
It was a social distance, Flood says, that Woods continued while out on the course: "When you are on a Sunday and battling it out you might have an odd conversation but not a huge amount.
"Himself and Padraig would be quite similar, they were both there to beat the person standing opposite them on a Sunday and then shake hands at the end.
"It's not so much that he's unfriendly, it's that he's zoned in. He would say good shot to you and you knew it was a good shot, whereas you could play with other fellas and every shot they say good shot or good swing, they are just saying things.
"With Tiger, until you hit a good shot he won't say good shot. He isn't pandering to keep you happy."
Perhaps the most famous duel between Harrington and Woods came at the WGC Bridgestone Invitational in 2009 when the pair went up against each other in a final day head-to-head.
Jostling for the lead between them all day, Harrington led by one shot on the 16th before a triple-bogey ended his chances.
"Himself and Padraig are quite similar..."

What was it like playing with Tiger Woods and how has he changed?

Caddie to Padraig Harrington, @FloodRonanflood gives an insight into one of the sport's greatest on this week's @GolfWeeklyOTB⛳️@NOWTVIreland pic.twitter.com/jt6VQBlkQe

— Off The Ball (@offtheball) September 17, 2020
"When Tiger hit a good shot it made Padraig hit a better shot," Flood recalled of that day. "And when Padraig did, it made Tiger hit a better shot. I was enjoying that from the point of view that wow, this is impressive stuff.
"The golf fan in me was inside the ropes getting to see this and I realised this isn't something you get to see every day.
"Unfortunately, it finished the way it did – not so much that Padraig didn't win but it would have been great to play the last three holes out – and see who would have won – like the 15 before."
Asked how Woods had changed since then, Flood noted that he had rarely looked as "zoned in" on winning as he had earlier in his career.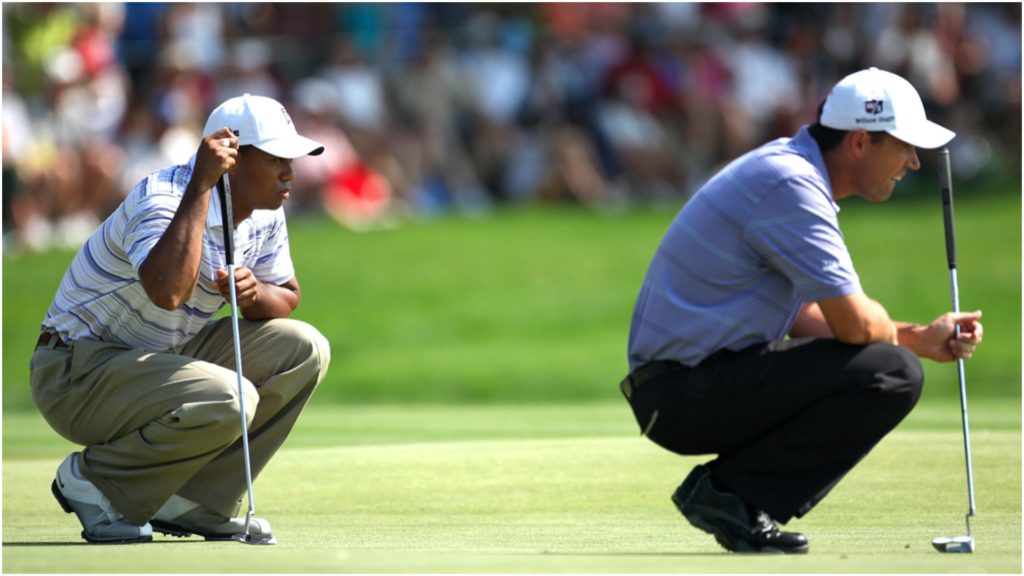 "I thought the change I'd seen in him was when he came back first before the win at East Lake, it looked to me like he came back out looking like he didn't know if he could still play golf. Not that he wasn't friendly [before] but that he was much more chatty to people out on the golf course.
"But then the Sunday in East Lake, when he won [the Tour Championship in 2018], was the first time I saw the Tiger that we had seen [again].
"If you ever watch that back I think pretty much the first time he talks to Rory [McIlroy] is when the crowd comes in on 18 and it's all over and he's won. That was the first time, to me, the modern guys have seen Tiger play [like we had]. He turned up that day."
If Woods is to contend at this weekend's US Open he would need to arrive with that focus, Flood argued, adding, however, that fitness was the big question for the 15-time major winner now.
"I think when he's not quite fit and strong and feeling good he probably believes it's very hard for him to compete. Whereas if he's feeling good you'll know by his demeanor, how he's walking around and how he's playing."
OTB Sports Golf Weekly is in association with Now TV, stream the US Open, the Premier League, Serie A and EFL Championship on Now TV…your sport on your terms.