Paul McGinley dropped into Off The Ball as he looked back at the PGA Championship at the weekend and another disappointing performance from Rory McIlroy.
The Ulster man has gone six years without a Major win, leading to his suggesting he wasn't as good as he used to be, McGinley wasn't having that.
"I'm not buying he's not good enough," said the former Ryder Cup captain. "He's fabulously good enough. Up to lockdown, he played the best golf of his life, statistics will illustrate that."
Where was Rory McIlroy over the weekend?

Joe Molloy reflects on his disappointing tournament and yoyo form ⛳

Full final round review with @gilletteuk #MadeOfWhatMatters ➡️ https://t.co/Wiwrap9tZ6 pic.twitter.com/Zbca2sWY4z

— Off The Ball (@offtheball) August 10, 2020
"His wins, his performances, his top fives and top tens will illustrate that," said McGinley. "That's not that long ago, it was only in March.
"He's lost his confidence, he's lost his intensity. I've been saying that for a while, he's not the same guy at the moment. Sometimes that happens, you've got to ride through it.
"Don't overthink it and understand it and give the reasons to yourself honestly as to why you have lost your intensity.
"Is it the crowds? Is it something off the course? We don't know, he hasn't said anything about that but certainly - he's not the player he was before.
"He's making a lot of mistakes, he had 13 bogeys, a double bogey and a triple bogey last week. You look at the leaders, they are only making three and four bogeys. You're not going to win Major Championships with that."
Mistakes
It is that profligacy in Rory McIlroy's game that has worried McGinley.
"He looks like a guy that's making too many mistakes," said that Sky Sports pundit. "The concentration levels are not there, the intensity levels are not there.
"I don't see it as a really technical problem, we've seen this a lot from Rory. He goes into a slumber and then he'll come out of it again and he'll take off.
"As fans of Rory and as fellow countrymen of Rory we've just got to sit back, it's part of the DNA of who he is. He will come out of this.
"He's just gotten into this slumber of mediocre performances and he's down on himself. Rory doesn't have the energy levels he would normally have.
"All of a sudden something will ignite him and he'll be up and running again. I wouldn't be overly concerned and I certainly wouldn't think he's not as good as he used to be.
"Yes, there are some guys coming onto the pitch who weren't there before and they are full of that desire and intensity. Rory's got a game every bit as good if not better than a lot of those."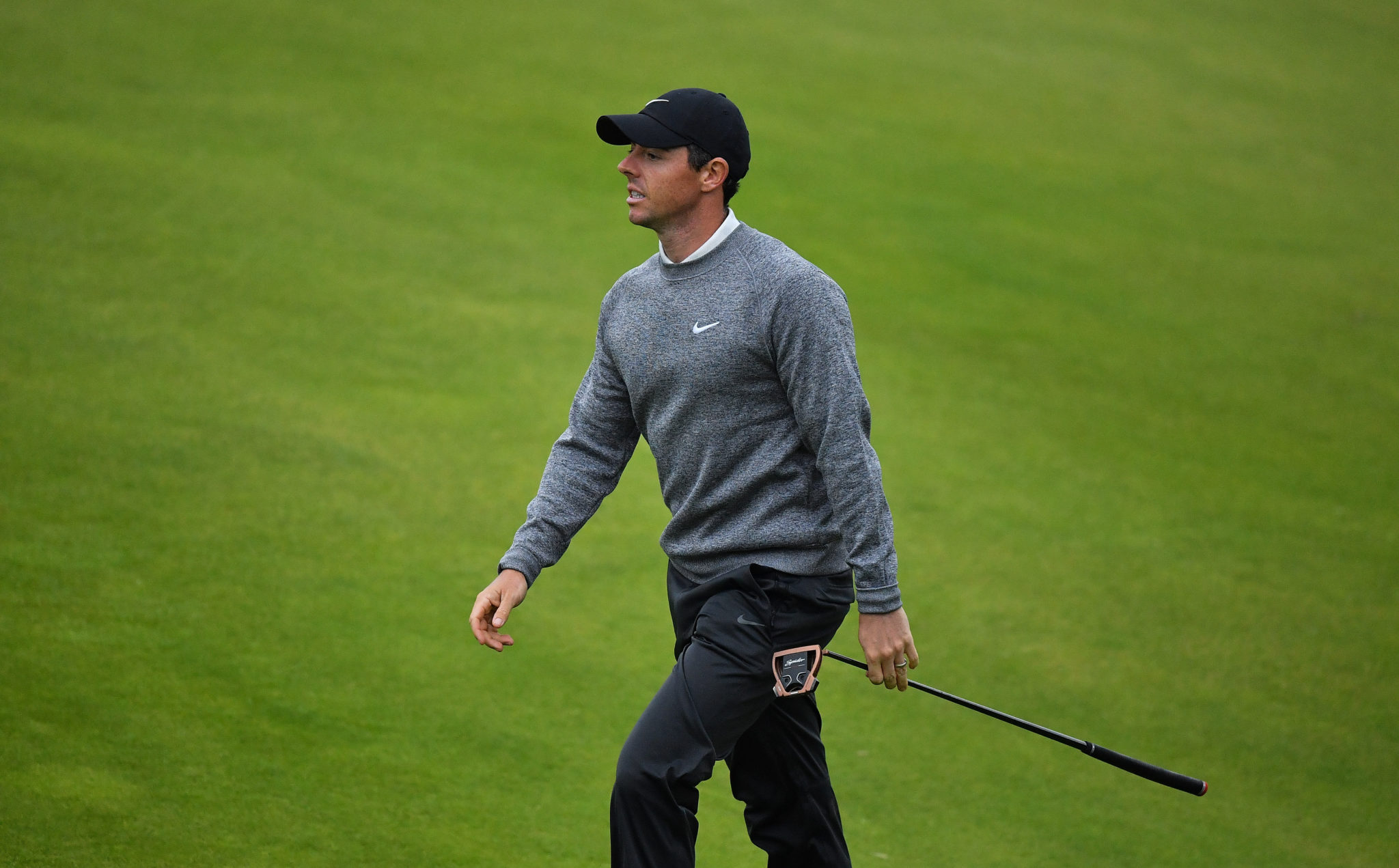 McGinley cannot see any obvious reasons in McIlroy's game for the slump and his poor approach play.
"There is no technical reason for that [errant wedge play] there used to be a lot of flash speed down the bottom [of the swing]. Now you see him play a lot of those sawn-off shots, which is the best way of controlling distance with the wedges."
It was put to McGinley that Rory McIlroy was not using that particular tactic on course.
"He is not tuned in, he is not at his normal energy levels," suggested McGinley. "When you are at that, you make silly mistakes, you get sloppy, you don't think straight. You are not on the edge as a competitor and that's where he's at, at the moment.
"What we have seen from the last 18 months shows you he knows how to play different wedges and different distances and you need to dial that in.
"Has he been practicing enough? Has the fact he self-admitted he took two or three months off during lockdown, where he didn't hit a shot at all, has that come back to haunt him? We don't know.
"They could be all reasons, but I don't see a technical reason there, he certainly has the ability."
Rory McIlroy will certainly hope McGinley is right who remains in third place in the world golf rankings after that 33rd place finish at the PGA Championship.