Padraig Harrington joined the Golf Weekly podcast on Off The Ball, on Bryson DeChambeau and his transformation.
Much has been made of the physical changes allied to the American's incredible distance off the tee, and Harrington says he witnessed first hand the power of Bryson DeChambeau before he bulked up.
"I played to Open at Royal Portrush with Bryson last year," recalled Harrington. "There were only three players on the range, me, a young skinny German lad, maybe six foot two or three and he's cracking the ball out on a cold day into the wind at 191 [mph] ball speed, and he's in rainwear.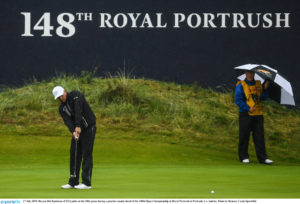 "So everything was against him hitting the ball at speed. I'm looking at him thinking 'Wow, that's impressive' and between me and him is Bryson DeChambeau standing on the range. The kid goads Bryson to have a go.
"I helped him because I wanted to see Bryson have a go. So on a cold day, with his normal driver, in heavy gear Bryson knocked out 189 mph ball speed. That's the equivalent of mid 190s [in normal conditions]. And if you put in five and a half degrees loft it would easily be 195."
Speed
Harrington is adamant what the world is witnessing in the new DeChambeau, is not new at all.
"So Bryson had the speed, he just wasn't using it," says the Ryder Cup captain. "He hasn't gained any speed, let's Americanise this: you're looking at a guy who has thrown a curveball at 82 mph and somebody goaded him to throw a fastball at 92 mph and he said 'Oh, that's not too bad.' He's worked on it and it's now at 95 miles an hour.
"He's always had speed but he's worked his whole life on the stability of face, now he's gone for speed. He's always had it, the bulking up, maybe it makes him a bit more stable?
Watch OTB's full chat with Padraig Harrington right here:
"I saw him on the range a year ago before all of this happened, he always had that speed. I tried bulking up for speed, there's nothing within the rules that ha not been tried by me. I've gone fat, I've gone skinny, I've tried speed work.
"Bryson has always had that speed in his body, he's just now using it. It is going to change golf. I've seen this over the years. Up until Rory and DJ in 2011, every time we had someone who was longer they were definitely undermined.
"In the amateur game or pro game they'd say 'Ah, he's missed that fairway because he's a long hitter. He's missed that fairway because he's swinging too hard.' Every time he hits a bad shot with the driver we blame speed, whereas if a short hitter misses the fairway nobody blames his speed.
"If you look at when Tiger Woods' driving was undermined because he was longer than everybody else. I remember Hank Haney, he had to change his swing, it was the most beautiful swing, long-hitter. Davis Love III was another long hitter in the 1980s, he used to hit an iron off the tee because he was afraid of missing fairways with driver.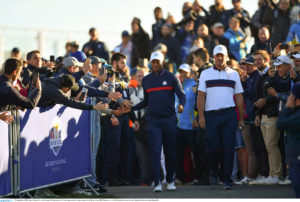 "It's not something the masses do consciously, it's an unconscious thing to ridicule the long-hitters. But now, when Rory and DJ come along, they are getting the coverage. People are saying 'It's okay, you can be a long hitter and a good player.'
"What DeChambeau has done, and what you see on television, is with the 'top tracer' with the distances of drives and ball speeds. Every kid out there is going 'I can do that, and now it's okay to do that,' whereas the coaches would have coached it out of them.
"If you saw speed in a kid you be like 'Oh, we've got to make him straight,' whereas now a kid under 16 years of age will at least have the speed you see Rory and DJ have, every one of them.
"A lot of them will have the speed DeChambeau has, and remember there are several players on tour who have more speed than DeChambeau, who don't use it. Tony Finau is at over 200 miles an hour and he's trying to play at low 180s.
"What DeChambeau has done is broken the mould a bit, thinking 'I am going to play maxed out.' I am amazed how straight he is, it's very impressive.
"Let's be realistic here, he's still about 15% short of what is humanly possible. He's a super long hitter on the tour but even on the tour Cameron Champ has more ball speed, Finau, Woodland too, possibly, but they don't use it.
"There will come a time where we have guys out on tour at more than DeChambeau's speed. Essentially once you have one guy do it, then you will have four or five or ten guys do it.
"Then in ten years' time, I'm happy I won't be there, you're going to have 20 or 30 of these guys."
Download the brand new OTB Sports App in the Play Store & App Store right now! We've got you covered!
Subscribe to Off The Ball's YouTube channel for more videos, like us on Facebook or follow us on Twitter for the latest sporting news and content.