Bryson DeChambeau's PGA Tour win at the weekend attracted many headlines with his power game, Nathan Murphy dropped into OTB AM to chat about the newly super-sized golfer.
Following Paul McGinley's chat on Monday's Off The Ball on the science of Bryson DeChambeau's game, Nathan was concerned about golf becoming a game of strength over skill.
"It could be a real worry for golf, that suddenly it becomes a power game, rather than a game of technique and artistry and shotmaking. When you look at sports that become power sports and there is a real risk that goes with that.
"When 17 and 18 year-olds think 'I need to be as big as Bryson DeChambeau,' there is a real risk around that. I can't imagine every young player is going to copy this and decide to put on three stone of muscle, but it has been fascinating to watch how he pulled it off.
"At the end of last season when he said 'I'm going to go away and come back a different player.' Ordinarily what you hear from the sports scientists that there are so many risks with putting on that much weight in terms of injury, but he's played four weeks in a row."
Interesting experiment
"He's contended four weeks in a row," continued Nathan, "his body seems to be able to cope with it just fine so it's been an interesting experiment.
"There's no better player to try and explain how he has done it and ram it down everybody's throats that he's smarter than the rest of them than Bryson DeChambeau.
"He's looked at the statistics and long hitters win more golf tournaments and he won that tournament last weekend not just because he hit the ball further than anyone else but he putted better than anybody else.
"The week before, Dustin johnson won because he putted better than anyone else. suddenly he's put himself in that mix of Dustin Johnson, Rory McIlroy, Brooks Koepka, he's in there now.
"If you have a good week on the greens when you are consistently hitting it so far you are probably going to win.
"They are weighing it up saying 'if there are five or six weeks a year, where I can putt well, my distance is going to ensure I win this tournament.
"I would suspect DeChambeau weighed up those statistics last summer and realised where he was falling a little bit short and has managed to pull off what he needed to do.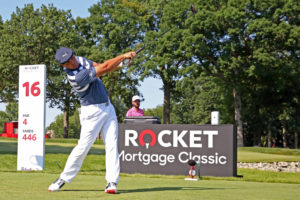 "He's going to be filthy rich, all you need is a hot streak, he did it before where he won four tournaments a few years ago.
"It's whether he can sustain this as we go into the new major season over the next few months.
"He's favourite for pretty much every major despite never finishing in the top 15 of a major before.
"If he can go and win a couple of them, I think people will begin seriously asking questions as to how golf is going and what sort of power game."
Download the brand new OTB Sports App in the Play Store & App Store right now! We've got you covered!
Subscribe to Off The Ball's YouTube channel for more videos, like us on Facebook or follow us on Twitter for the latest sporting news and content.