The question of a video referee was raised again on Sunday, following a controversial All-Ireland semi-final between Dublin and Mayo on Saturday.
Match referee Conor Lane came under scrutiny from fans and pundits alike after Mayo ended Dublin's 45-match unbeaten streak, most notably surrounding an incident involving Eoin McLoughlin and John Small.
While many have suggested that it should have been a red card, others were merely concerned for the wellbeing of McLoughlin after the hit.
While further sanctions may still happen, the on-field repercussions of the incident have caused a lot of debate, as a red card in that instance could have affected the outcome of the match.
This has brought forward questions as to why the GAA do not use video referees akin to the TMO in rugby or VAR in football.
Speaking on the Sunday Paper Review, the Irish Independent's Colm Keys suggested that the idea has been brought up before, but rejected by Croke Park.
"It has been on the table in recent years, but it has been rejected out right," Keys said.
"I remember the former director general Padraig Duffy was very much against because, and he quoted Nigel Owens, the former international rugby referee, that rugby was becoming a far too elongated game because of resorting to video.
"As we saw in the Lions series, those fears have really come to pass for rugby.
"There were seven minutes of extra time last night. If you are reverting to video, how long does a game of Gaelic football become?"
Keys suggested that the previous calls for a video referee were surrounding points and penalties as opposed to acts of foul play and player safety.
"There have been attempts by counties, namely Limerick, to try and introduce the use of video," Keys said.
"But so far it has been rejected on the grounds of, what are you going to use it for? Every incident in the game?
"That is the fear from the GAA. While it would be a great aid, and referees are really for it certainly in terms of scores and around penalties, but as regards discipline there isn't really a view out there.
"It would be a great aid for the referee to be able to call in somebody else to have a quick look at what everybody at home was able to see."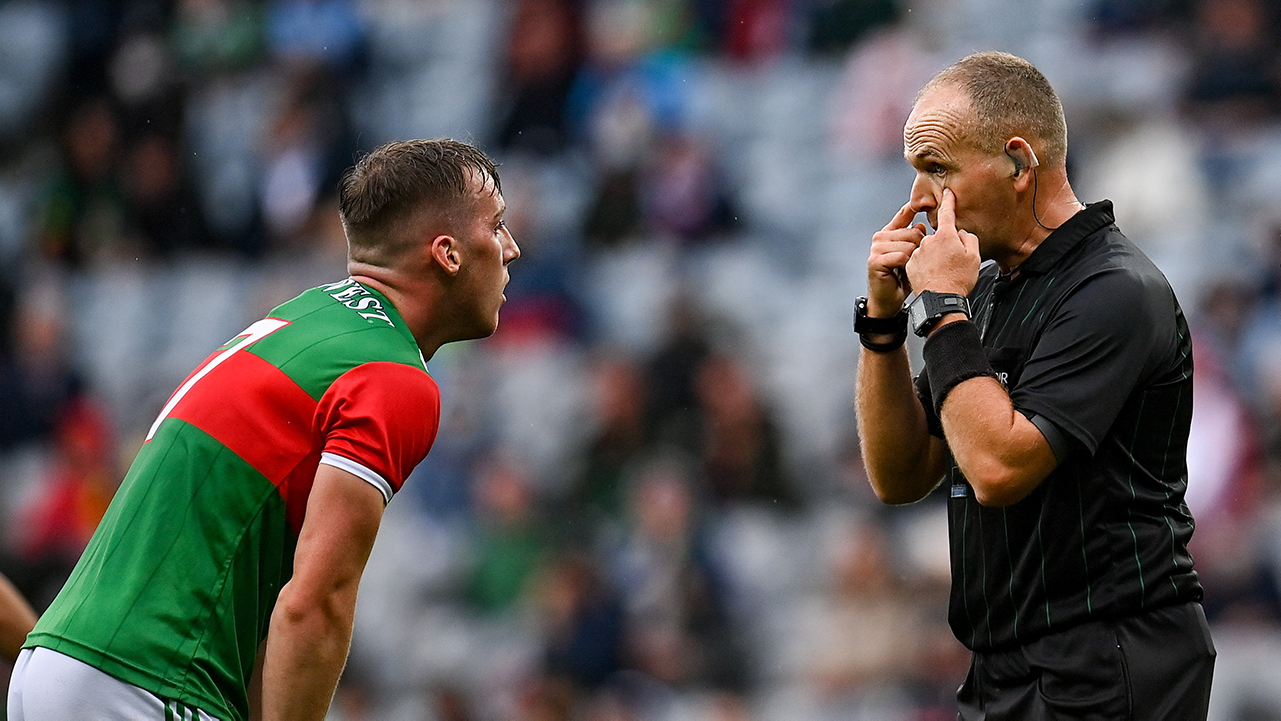 The inclusion of a video referee has to be about player welfare
For broadcaster Ryle Nugent, who joined Keys on the Paper Review the idea of bringing in a video referee should not be solely based on the length of the game.
"I absolutely get those concerns," Nugent said. "In a lot of ways, the video referee and VAR in football have caused issues for both games, and I have no doubt that bringing in any sort of video referee is going to cause an issue. It requires a change of approach.
"My issue comes back around to player welfare and asking a referee to see something in a way that we all see it in a split second when there are so many other things going on isn't realistic.
"Where does it come in? If somebody takes the head off somebody and the referee is blindsided, it needs to be sanctioned and it needs to be stamped out of the game. Use the video referee to do that."
Download the brand new OTB Sports App in the Play Store & App Store right now! We've got you covered!
Subscribe to OTB Sports's YouTube channel for more videos, like us on Facebook or follow us on Twitter for the latest sporting news and content.