A Tullamore native more readily attuned to treating Clara with some contempt, local rivalries subsided as Paul Rouse considered his experiences of Offaly's first sporting family, the Lowrys. 
"I don't know him well by any means," admitted Paul Rouse of his peripheral relationship with Shane Lowry on Tuesday's OTB AM, "I've only met him a couple of times, but he is as genuine and nice a fella as you could possibly meet."
Delighting in Lowry's Open success, Rouse's fellow Offaly man captured the hearts of onlookers across the country as he delivered a remarkable winning performance in Portrush on Sunday afternoon.
As is often the case with Paul Rouse, however, stories of this recent success soon became infused with tales of Lowry's sporting progenitors.
"His father was a great footballer," said Rouse of Brendan Lowry, an All-Ireland winner with Offaly and perhaps the most visibly nervous man in Portrush over the weekend.
"He was an astounding footballer in that team of 1982 that won the All-Ireland. Matt Connor was the untouchable genius in that team, there is no arguing with that.
"But as a forward, Brendan Lowry was just exceptional."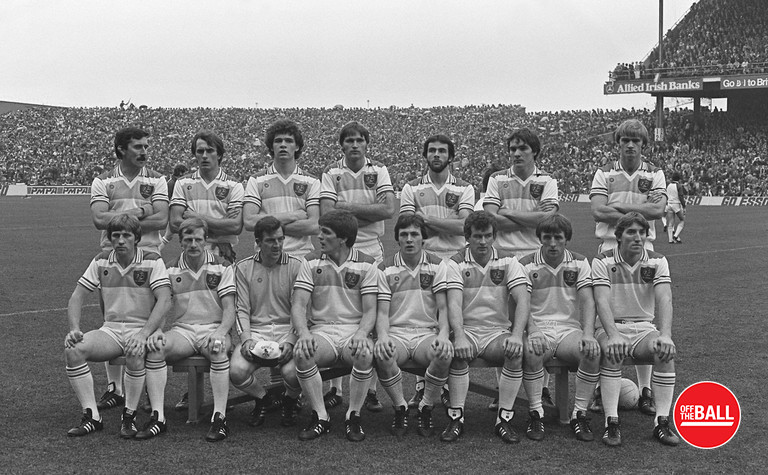 An integral member of the Offaly side that halted Kerry's drive for five All-Ireland wins in succession, Brendan Lowry possessed a curious place in Rouse's formative years.
"When I was in first year in school, we had to do a project on someone," recalled Rouse, "and I did mine on Brendan Lowry.
"In club football I played a lot against both Brendan and [his brother] Mick Lowry. I had the great misfortune of being marked by Mick on several occasions, and that was a chastening experience.
"Ferbane were really strong at that time and had won five or six county championships, and Brendan Lowry was the star forward on that team."
Scoring 0-3 on the day Offaly famously halted Kerry, from the heights of 1982 and beyond, Rouse reserved special praise for Brendan Lowry's loyalty to the Faithful County even as their fortunes faded.
"He stayed playing with Offaly well into his 30s when they had diminished as a team.
"He stayed playing when they were really struggling, turning up season after season knowing this wouldn't be simple."
Only two-days removed from success in Portrush, it appears entirely likely that Shane Lowry's win will stand alongside those of which his father and uncles played their own special role.
You can watch back Paul Rouse's potted history of golf in Ireland here. 
Subscribe to Off The Ball's YouTube channel for more videos, like us on Facebook or follow us on Twitter for the latest sporting news and content.