The brain has its own little Amazon-style sorting system. Evolution has taught us to compartmentalise what we do and those we meet.
We all do it. Someone may look similar to somebody we dislike, so the mind marks them as 'don't trust until they prove themselves'.
Similarly, the woman you meet might show caring characteristics you've experienced elsewhere, so we file them under 'potentially great, but for the love of god don't tell anyone she subconsciously reminds you of your mum.'
As this introduction descends into Oedipal nightmare, it should be said that Ireland has a black belt in spotting the little identifiers: names that show a person's religion, the significance of the schools we attend.
Off The Ball listener Stewart Cherry, a Protestant from Kilkeel, Co. Down, played Gaelic football for St Peter's GAA in Manchester from 2009 to 2015.  The fact that Stewart's story is even worth commenting on is telling of itself.
Stewart's story is a touching insight into why the GAA is so good for people, relationships and communities. 
Here is his story, and his suggestions to get more Protestants through the door of GAA clubs.
Under the influence of Mayo
Stewart reacts as one might expect when asked outright 'so, are you a Protestant?' It's a question that shouldn't matter but does for the purposes of this conversation.
An engaged and engaging talker, the story of how Stewart came to play for his club is a fascinating one, and will resonate with any Irish person who has lived abroad.
Stewart's family are from Kilkeel, with no Unionist affiliation to speak of. As if being Protestant wasn't bad enough, he now works as a recruiter in New York.
We start at home.
"I played rugby, soccer and field hockey growing up. There are four good GAA clubs around the South Down area: An Ríocht would be Marty Clarke's old club, you had Atticall, Longstone and Ballymartin. [Playing Gaelic football] just wasn't done, even though I played soccer in a mixed club.
"When I was at university in Queen's, I would wear the Down shirt and watched the 2005 minor final. My dad's from Tyrone; they won the senior final that year. But I didn't play at home, it was from Catholic friends at home.
"I didn't support Rangers or Celtic or anything like that - we always just grew up 'Irish-Northern Irish', that's just what we were. It was not a political family at all."
Stewart began playing for St Peter's GAA in Manchester having moved there, alongside his best friend from Castlebar.
A Mayo man will always lead you astray.
"I don't know if it is just being Irish in England, but the whole Protestant and Catholic thing doesn't come into it too much. You're just Irish, or Northern Irish or whatever.
"You can just pick and choose in England what you are. I think you can control your identity a bit more, you are not so pigeon-holed into things. I always had an interest in it and I thought: why the hell not? Let's give this a go."
Picking up a ball for the first time at 26 years old had not exactly polished the motor skills.
"I was muck; absolutely awful. I made some calamitous errors in my time - I hand-passed a free-kick to the derision of my colleagues, I quickly found out that back-passing or Cruyff turns weren't recommended either!"
Stewart was introduced to his teammates by his best mate, in terms maybe best understood by young men.
"I didn't know whether I should mention if I was a Prod here or not, and my mate said: 'He's not going to be any good at this, because he's a dirty northern Prod!' It was the best thing."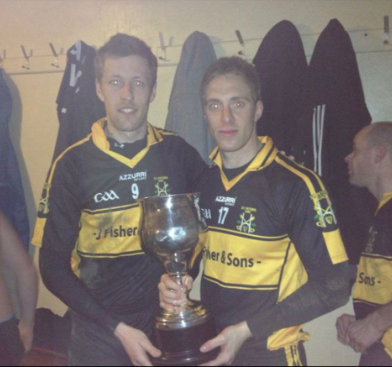 In a club that was predominantly Mayo and players from the north, Stewart says his teammates were 'intrigued' by his identity.
"I was doing a warm-up one time with a player and he'd asked me where I was from. I said 'Kilkeel' and he said 'do you know so-and-so?' I said no. 'What Gaelic club did you play in?' I said I didn't. He asked which school I went to, and I said Kilkeel High School. He said '...right.'
"He must have asked me about ten questions and by the very end of it he looked over his shoulder as if it was a secret and said '...are you a Protestant?' I said yes, and he was like 'Oh good for you lad, good for you..'"
Stewart says that welcome continued for the six years he played at the club.
"I never experienced any bigotry when I was actually playing Gaelic football. I wore my Northern Ireland shirt to training and it was actually good banter. I've heard Andrew Trimble talk about this. My best friends are Catholic, I don't support the Republic, I'm a very big Northern Ireland football fan, but I do support the rugby team - and that's why we take the piss out of each other.
"I had the time of my life playing Gaelic football, I absolutely loved it. I couldn't tell you how much I enjoyed it, I loved it so much."
'We have to be prepared to sacrifice'
When they have become such a part of the fabric of Gaelic games, it is easy to be blind to the symbols that surrounds matches at all levels until someone sees them with fresh eyes.
"We stood for Amhrán na bhFiann and the Republic's tricolour was flying. I felt like I was a guest playing. I felt that you shouldn't have to be Irish to play Gaelic football, you should be whoever the hell you want to be. It's a sport, at the end of the day. You're not 'signing up' to anything - it was a sport, my teammates were my friends and it was a part of the community that I lived in.
"They play big roles in the community at home, but I think that it is at times a barrier to entry. Does it want to be a sport first and foremost? Does it want to be a political and cultural movement? I feel that if you want to make the sport inclusive then you need to be prepared to sacrifice some of the other things.
"I totally get it, that is why I felt like I was a guest - a very welcome guest - but Amhrán na bhFiann and the tricolour are not my symbols. Nor would the Union Jack or God Save the Queen."
Those symbols belie the welcome he felt, but Stewart feels changes could be made for Gaelic games to become truly cross-community.
"The problems I think you would have in the north, is the connotation - there are Gaelic clubs that have names that are associated with the Republican movement. The fact that some clubs names are in Irish - funnily enough, even though it was the Presbyterians that tried to maintain it - it is not a language used in State and Protestant schools.
"There is a view that Gaelic games is Catholic, it is Republican and that it is anti-Protestant. There is the sense that it is 'not for us'. Some people would have the view not that it is anti-Protestant, but that there is certainly no entry point for us. That is the major problem."
'Protestants would love to play'
As with most from the north, the words are chosen carefully and with the feelings of others in mind.
"I get it. You listen to Joe Brolly talk about the terrorising that happened to GAA clubs at the hands of the police or the army. These were sanctuaries where you could be Irish, be a Gael and speak Irish. You could commemorate those things that were important to you, and I understand that.
"I just feel that if you want to broaden the appeal then you have to ask the question of what is stopping the appeal in the first place.
"If you're a Gaelic club and you think that is as important to commemorate and recognise these things, instead of just being a sport, I think that is going to be a barrier to entry. I understand why clubs wouldn't want to do that, I can empathise with them 100%. But there are a lot of Protestants, like me, who would absolutely love to play it."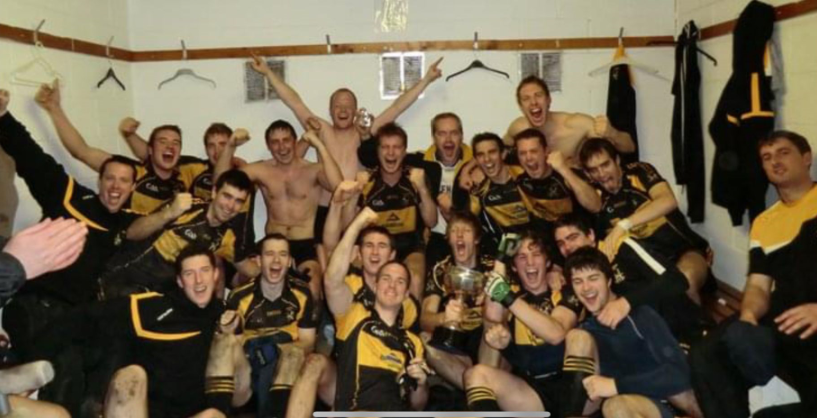 What changes can be made?
In practical terms, then, what does change look like?
"We were joking years ago that there should be a 'Bring your Protestant to work day'. You need to do something, and the GAA is one with the history and the profile where the Protestant on the street isn't.
"I think there are are a couple of things that need to happen: engage with kids in Protestant schools early, when they are five or six. Go into schools and promote the sport.
"The second thing: for years, the GAA were opposed to 'foreign sports' being played on their pitches. Straight away, the perception is that it is insular. You have got some of the best facilities in Ireland, why not open them up? It can't be a closed shop and that's what's happening.
"In the north, 'community' is always seen as a tribal thing. But community is everybody.
"There could be cross-partnership with them to participate in other sports: Catholic schools come and play rugby or field hockey and Protestant schools play Gaelic games. You have to think of it collectively."
Evolution
From New York, Stewart gives the impression that he would be on the first flight if Croker called.
"I've never been to Croke Park and it is a big dream of mine to go there for an All-Ireland final, especially if Down play."
The mind turns to what he can do to ensure this isn't a dream worth remarking on.
"To me, Gaelic is the one that has to make the first move because you have to defuse the situation and disarm the idea that they are a 'Republican organisation', which I don't think that it is.
"You have got something so beautiful, the sport is just incredible: Gaelic football, hurling and camogie are amazing. You've got great sports but they are not given the credit because people are prevented from the sport with all that goes around it."
We finish where we started; with evolution.
"I understand how GAA was forged: as an alternative to other sports and as a manifestation or personification of Irishness. I totally get that. But times have changed and everyone has to evolve.
"That is is probably something the GAA needs to ask itself: does it want to evolve so it has an incredible next 140 years or does it just want to continue as is?"
It is hard to disagree. As he says himself: community is everybody.
Download the brand new OTB Sports App in the Play Store & App Store right now! We've got you covered!
Subscribe to Off The Ball's YouTube channel for more videos, like us on Facebook or follow us on Twitter for the latest sporting news and content.