18 years to the day from Armagh's All-Ireland win in 2002, Off The Ball revisited that memorable day when Joe Kernan led the Orchard to Sam Maguire glory.
Joe Kernan, Enda McNulty and Benny Tierney joined the show to recount some highlights from the day.
It was a letter from arguably 'The Greatest' that has left the greatest mark on some of the players.
"I still have it, it's in a drawer in Armagh," said McNulty of the treasured letter. I have to thank Joe and Hugh Campbell for making that possible.
"I actually shared a room with Benny Tierney on the morning of the All-Ireland and I woke up to use the bathroom and I could see this envelope slipped under the door.
"Normally, Benny on a big match morning is joking and laughing and slagging and taking the mick out of me.
"I say to Benny 'this must be a letter to say you're not starting or something.' Then I opened the letter and it was from Muhammed Ali."
 A letter from Muhammed Ali
The impact was instant as a rare moment of silence followed the realisation of where the letter had come from.
"The pair of us were dumbfounded, he's been a lifelong hero of all of ours as an elite sportsperson. We just couldn't believe we had a signed letter from the greatest athlete arguably of all time.
"We were very excited, we were very inspired and it certainly started the day off on a very positive note."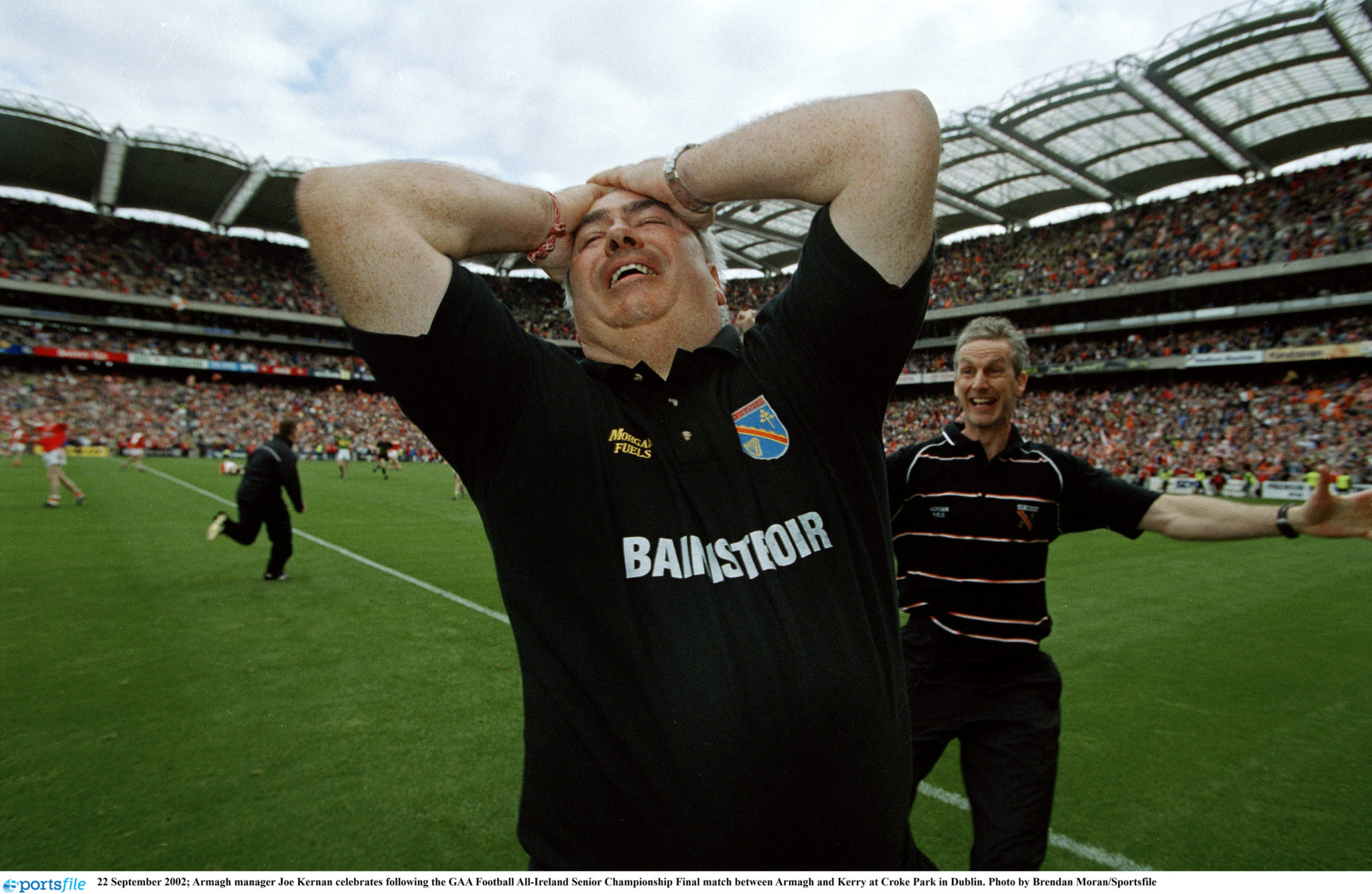 Tierney was expecting the letter to be 'some sort of yarn' before the opened it.
"When I opened it and read it, it was like everything that happened that year. It was something new, something fresh and something that motivated us.
"It was done at a particular time, about seven in the morning. Your mind was already geared into what was already going to be one of the biggest occasions of your life.
"When you get a letter from Muhammed Ali, you realise the efforts that Joe, Paul Grimley and Hugh Campbell went to just to Muhammed Ali on board.
"It was a very special start to what was going to be one of the biggest days of our lives."
In an era where perhaps preparation was not at the same level as it is now, Armagh made sure to prepare mentally as well as physically. The management team went to every length to ensure there would be no surprises for the players on the day.
Kernan used sports psychologists and even called in the expertise of a dual All-Ireland winning manager, Sean Boylan, to chat with the team, to let them know what to expect.
Shaking like a lamb's leg
Brilliant chat on Armagh's win 18 years on: how Muhammad Ali and Al Pacino got the boys over the line:https://t.co/NhGIoPS730

— Off The Ball (@offtheball) September 22, 2020
McNulty paid tribute to the preparation, even if it took a while to take effect.
"I was sitting in the changing room shaking as Joe gave a very compelling succinct speech," recalled McNulty.
"Geezer always giving a very inspirational last word and I remember my body shaking with nerves.
"In the warm up my body continued to shake almost like a lamb's leg. I remember Joe shouting to us in the warm-up and I couldn't hear his voice because I was so nervous.
"I remembered what Hugh Campbell said to me about managing my mind by using my breathing and changing where my focus went to.
"In the National anthem, I managed to control my emotions, my mind and my body.
After the first play, Mcnulty's nerves had "disappeared" and he went on to have "one of the best halves I had in my life."
Joe Kernan and his team had used every possible angle to secure glory, Al Pacino speeches, sports psychologists, an All-Ireland winning herbalist, a legendary half-time team talk, and even a letter from Muhammed Ali.
It worked, as Armagh lifter Sam that day, 18 years ago.