Tyrone coach Joe McMahon believes skills training is just as important to player development as strength work. The All-Ireland football winning coach took charge of skills training for the Ulster county this past season and he believes there is still much more work to be done.
Speaking on OTB AM on Thursday morning, McMahon explained how skills training was a focal point of the season. The former player-turned-coach noted the importance of intense training sessions too.
"I think building up throughout the season, our main focus is obviously the intensity you want to give," explained McMahon. "That's the foundation of any performance. But your skills are important.
"It's alright having a game plan. That's one thing, but to execute it at a high level with those skills is very important. That's something we focused on in particular."
McMahon, 38, joined the Tyrone panel this season as part of the coaching staff under joint managers Feargal Logan and Brian Dooher. McMahon played alongside Dooher for Tyrone during their playing days.
"We shared the roles but I'm grateful to Brian and Feargal for giving us a lot of free reign," McMahon admitted.
Skills Training
While McMahon admits to the coaching roles being shared, he acknowledges his role focused mainly on skills training.
"With myself, I was involved a lot in the skills end and refining skills," says McMahon.
"We would do it under no pressure and then put them under high-pressure moments. It's nice setting up nice, fancy drills and they look good but we want to see how they are in a pressurised moment."
"In particular, we would work on our fundamentals. We work on things as simple as your hand pass, catching, and shooting. All of those things that together you can do under high pressure."
Player Development
For McMahon, skills training was never established to diminish players, but to encourage them to develop their craft.
"It was never a case of saying that's not good enough," McMahon disclosed. "It was about highlighting areas where fellas need to work on."
The All-Ireland winning coach believes skills training is just as important to success as strength training.
"I personally feel that if you're going to put as much time into a gym session, you should be prepared to give put as much time into your skills.
"Then, when you bring your skills onto the training field, it will further impress on everything you're trying to do as a group."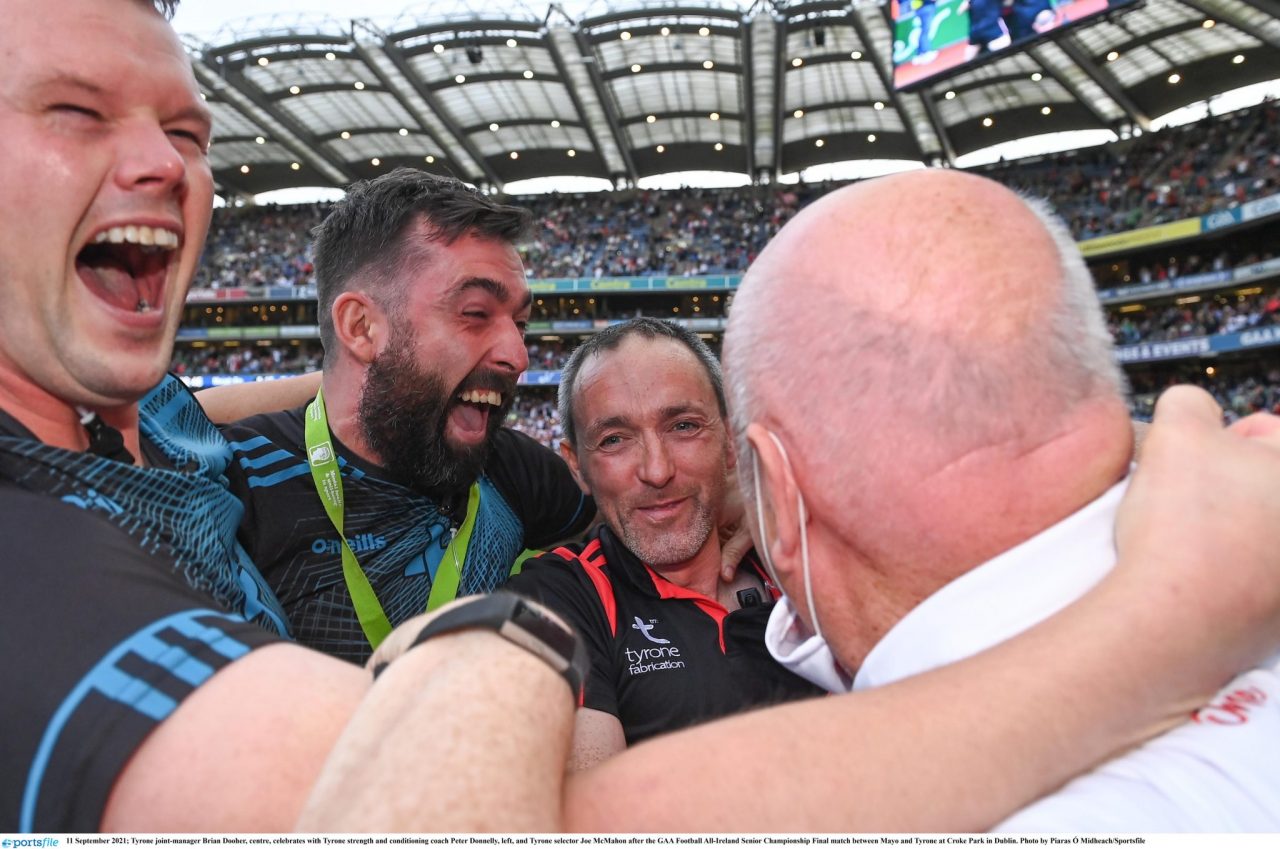 More to Come
While McMahon's training regime has certainly worked this season, he still believes there is a lot to be done.
"I suppose you can see it working to an extent, but there's still plenty to work on."
McMahon and the rest of the Tyrone coaching staff will continue to work on the training pitch. But for now, they will celebrate their hard work paying off.
Download the brand new OTB Sports App in the Play Store & App Store right now! We've got you covered!
Subscribe to OTB Sports's YouTube channel for more videos, like us on Facebook or follow us on Twitter for the latest sporting news and content.