As a former Mayo player and All-Ireland finalist, Anthony "Larry" Finnerty has experienced the highs and lows of inter-county football.
On Sunday, however, as his native county take on their fierce rivals Galway in the provincial final, Finnerty will experience something altogether different as his son potentially lines out for the 'enemy'.
Alongside Joe Molloy, Kieran Donaghy and David Brady on the latest SuperValu GAA Roadshow with OTB Sports, he shared some sad memories with Mayo and his hopes for son, Robert.
"I try to keep out of his way and have food on the table," Finnerty explained of how his approach to the big games as a parent, rather than a player.
"Whatever he wants just to make him comfortable and have him right. He is different to me. He has a lot more confidence than I ever did."
The pain of losing on the biggest stage
Having been involved in three All-Ireland finals, one in 1986, and two in 1996 including the replay, Finnerty is well aware of the regrets that can arise from losing massive games.
"It is painful," he confessed when discussing 1996 and the loss to the Meath team led by Sean Boylan.
"I think what stands out for me is that in that first game we were cruising midway through the second half. I was on the bench and we were looking around and saying, 'God, we are going to win the All-Ireland.'
"Those of us that were on the bench were saying we can't believe how easy it is going to be after all these years."
Of course, Boylan's men rallied and the first game ended in a draw before Meath ultimately went on to seal victory in a replay two weeks later.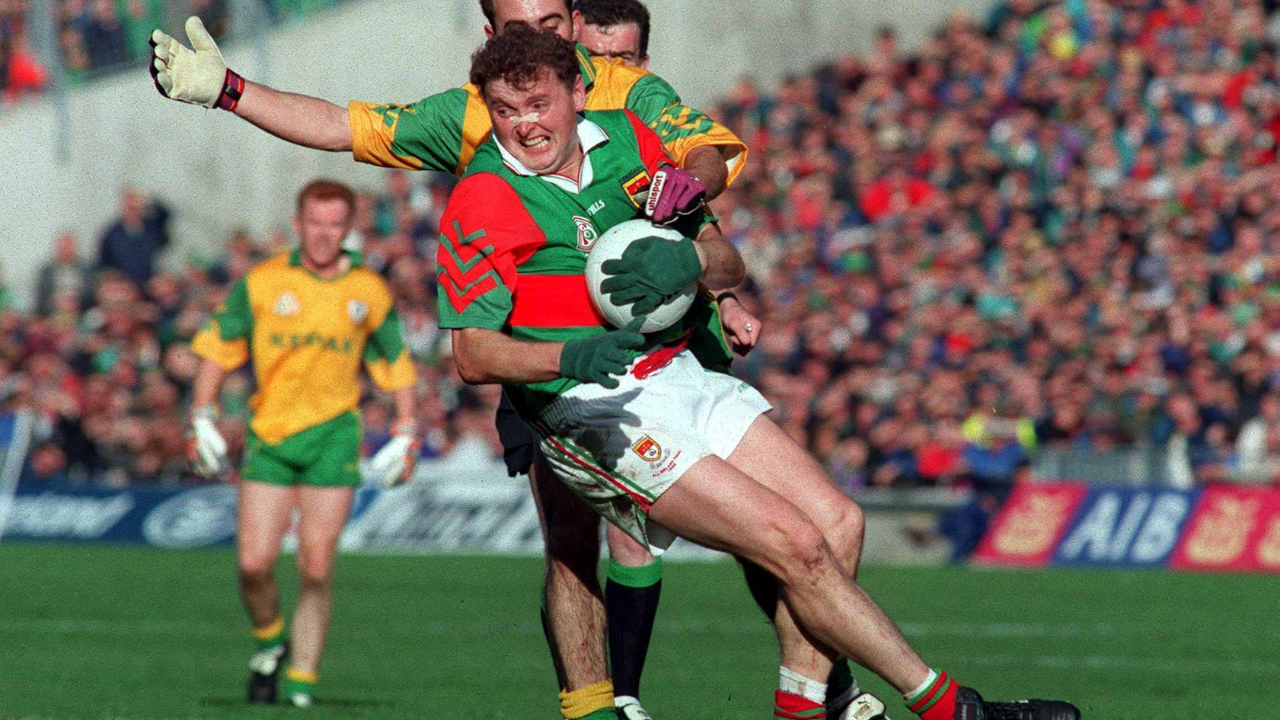 Losing the replay "was like a death."
The pain of that defeat is something that sticks in the mind of Finnerty to this day.
"Overall with the two days, it's just a horrible feeling," he admitted. "To have the game won on the first day and it is a draw, [it's] such an anticlimax [first of all].
"There is such a buildup to an All-Ireland final first of all. It takes a lot out of you. The second day, it was like a death. We were so close, we were within touching distance. It will stay with me until my last day."
Having already decided that it would be his final appearance in a Mayo shirt, the loss marked the end of his journey with the county team.
Divided loyalty
Thankfully, Finnerty's son Robert may only be at start of a long journey himself; albeit in Galway maroon.
Due to his storied history in the green and red of Mayo, will it be difficult for Larry to watch if his son turns out for their rivals on Sunday at Pearse Stadium?
No is the answer when it all comes down to it.
"It's a really tough situation," he allowed, "[but] I am definitely shouting for Galway if they pick the right team. If they don't pick the right team, I'll be shouting at Galway, not for them,"
"He is only a young lad and this is his first real year. He was involved last year and got two runs in the championship against London and Sligo. He did not tog for the Connacht final last year though.
"This really is his first opportunity and he may not start, he is only 22. All I say to him is that if you are not in the first 15, keep your head. I made a name for myself most of the time coming on as a sub."
In reality, there are some conflicting feelings for a man so steeped in the history of Mayo football. While wanting the best for his son, there will be a flux of emotions on Sunday before the final whistle is blown.
"If Galway has a bad day I will be upset, obviously, for the young lad and upset for the whole Galway team," Finnerty explain. "If they win, a part of me will be upset Mayo are gone."
David Brady and Larry Finnerty joined OTB Sports for our latest SuperValu GAA Roadshow. Keep an eye on all our social channels for more from that show in the coming days
Download the brand new OTB Sports App in the Play Store & App Store right now! We've got you covered!
Subscribe to Off The Ball's YouTube channel for more videos, like us on Facebook or follow us on Twitter for the latest sporting news and content.