Confident that he will one day return to the inter-county scene, Cavan's Killian Clarke explained his decision to leave Gaelic football aside in 2020 on Tuesday's OTB AM. 
"I'm playing a bit of soccer, a bit of racquetball too," noted Killian Clarke of one perk that has followed the temporary halt to his inter-county career. "I haven't played soccer in seven or eight years in case you'd pick up an injury playing soccer."
"I'm looking into going to Coachella too."
After almost a decade of playing inter-county football at one level or another, the 26-year-old Clarke has excused himself from contention in 2020. Along with Dara McVeety, Conor Moynagh and Conor Rehill, Clarke's decision to leave the Cavan panel has undoubtedly served to complicate Mickey Graham's plans for the year ahead.
After Cavan reached only their second Ulster final in over 20 years last time out, it was the nature of their eventual championship exit that left a telling mark on Clarke's outlook for the year ahead.
"I did a week's training to kind of test the waters and see if the hunger was still there," he noted of his initial intention to pick up where he'd left off in 2019, "but it just wasn't so I said I'd just step away.
"I don't know what way you'd say it, but I just fell out of love with the game a bit from a few tough defeats we took at the latter end of last year.
"With those gym sessions and training sessions late in the evenings with a lot of travelling, you kind of think to yourself why you're doing this, why do I need to?
"On the road about nine years with Cavan, I just couldn't get my head around going through the process again and having nothing to show for it."
"That's not a good enough attitude to bring to Cavan football and I wouldn't have accepted it off a lot of players in the years I was involved, so it would have been hypocritical of me [to stay on]."
Comfortably beaten by Donegal in the Ulster final, Cavan's year came to an end in a fourth-round qualifier where they were roundly hammered by Mickey Harte's Tyrone.
In the last month or two, I've got a lot more time to spend with my family and girlfriend and just making my own decisions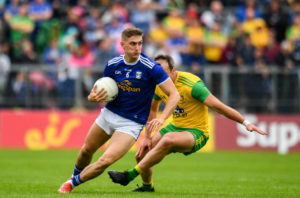 In a wide-ranging discussing that touched on many of the concerns raised by inter-county players in the recent ESRI report, Clarke found the reality of Cavan's place in Gaelic football's pecking order difficult to contend with considering the demands that are put upon players.
"The commitment level is easier to give when you're contesting that Ulster title or All-Ireland final," he suggested. "I definitely think it would be [easier if there was an off-season]. In the last month or two, I've got a lot more time to spend with my family and girlfriend and just making my own decisions.
"But I don't think there are too many managers who would agree to give lads a month off."
Although Clarke is eagerly anticipating the possibility of focusing his spare attention on both his personal and professional interests, he admitted that a change in the GAA's fixtures calendar could well have left him in a position where leaving Cavan would never have crossed his mind.
"Ya, I think that would be the way to go forward with it," he remarked of the possibility that there could be a  complete cessation of links between player and county in the season's immediate aftermath. "I think any of the top teams, in rugby or soccer, they get that period off.
For the time being, Killian Clarke will content himself playing soccer and planning out a trip to Coachella.
For a detailed breakdown of the Gaelic footballers stepping away from the inter-county game in 2020, click here. 
Subscribe to Off The Ball's YouTube channel for more videos, like us on Facebook or follow us on Twitter for the latest sporting news and content.