As Kerry's footballers prepare for Sunday's National Football League final with Mayo, former Armagh footballer Aidan O'Rourke has reiterated his concerns regarding the defensive capabilities of Peter Keane's side.
Enjoying what appears to be a positive start as manager of Kerry's senior footballers, defensive frailties will nevertheless give Keane cause for concern later in the year, according to O'Rourke.
"The glaring thing for me at the outset of the league for Kerry was that they didn't have the individual defensive capabilities that some of the other teams have," O'Rourke argued on Tuesday's OTB AM.
"If you think of the other best teams in the country, you can name the best two or three individual defenders.
"You know who is going to mark Conor McManus, who's going to mark Paul Mannion in a particular game.
"When you look at Kerry, you're not sure who the best markers are and you don't know who the best individual defenders are.
"I felt that their priority for the league should be how to address that, and if you don't have the individual quality you have to address it collectively."
Analysing the Mayo game in round 6 I would go as far to say that it was alarming to watch how poor Kerry were in the tackle.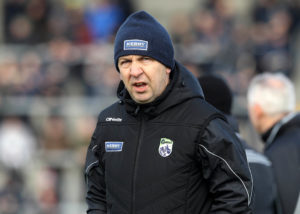 On the evidence of the Kerry performances he has witnessed under Keane, however, O'Rourke believes this collective effort is not forthcoming.
"Analysing the Mayo game in round 6," O'Rourke raised, "I suppose I would go as far to say that it was alarming to watch how poor [Kerry] were in the tackle."
"Early in game when Kerry were trying to press them and hem them into their own half, Mayo found it very easy to slip the tackle and beat them in one-on-one situations.
"I think come the summer that's going to be a very, very important aspect of how Kerry are going to defend and how they're going to take teams like Dublin on."
Considering the marked improvement in Kerry's defensive record throughout the current league campaign in comparison to last year's sorrier alternative, O'Rourke acknowledged the upturn in form, but doesn't believe it shadows the flaws he has highlighted.
"They've certainly made improvements on last year," stated Aidan O'Rourke.
"I think you need to look at it in terms of a wider perspective of what teams in Division 1 are trying to achieve.
"So, it's not as simple as looking at we've conceded X and you've conceded Y, therefore we're better defensively."
With Kerry's NFL defeat to Mayo signaling the most glaring example of the young side's faults in O'Rourke's mind, this weekend's final clash with James Horan's team will offer Keane's Kerry a chance to rectify those mistakes.
Download the brand new OTB Sports App in the Play Store & App Store right now! We've got you covered!
Subscribe to Off The Ball's YouTube channel for more videos, like us on Facebook or follow us on Twitter for the latest sporting news and content.