After Dublin's Cormac Costello enjoyed mixed fortunes from the penalty spot on Sunday, Paddy Andrews recalled how a missed penalty from his own playing days drew an angry reaction from Jim Gavin on the latest edition of The Football Pod with Paddy and Andy. 
With the first round of National Football League games played, Paddy Andrews and Andy Moran had plenty to talk about when they joined OTB's Tommy Rooney for the second episode of The Football Pod.
In Dr. Hyde Park, Dublin came out 1-22 to 0-16 winners against Roscommon with Cormac Costello scoring an impressive 1-13.
Only, it could have been an even greater tally for the Whitehall Colmcille forward.
"I'm not going to slate him for missing two penalties," admitted Andrews straight away, Costello scoring one goal from the three penalties he took for Dublin on Sunday.
As he explained to Andy and Tommy on this week's podcast, it wasn't without good reason!
😠 'Jim turned to me, 'When's the last time you took a f***ing penalty?!'

🤣 'Quick as a light, Costello put up his hand...' @PaddyAMetis won't criticise Cormac Costello for his penalty misses and he told us why on Ep. 2 of The Football Pod 😂 | ⬇️⬇️⬇️ https://t.co/DnBnFzBlBR pic.twitter.com/XDHdoQChrX

— Off The Ball (@offtheball) May 19, 2021
"I took one penalty for Dublin in my entire career," he explained, the solitary spot kick coming against Mayo in a 2017 league clash in Croke Park.
Andrews' first game back for Dublin after an injury layoff, he entered the fray with 15 minutes left to play and was quickly presented with the opportunity of an 'easy' score.
"I was on the pitch a minute and Dean Rock was fouled," he remembered. "He got a bad bang and was injured so I was thinking, 'Jesus, I might actually take this here.'
"This was going to be my first touch of the season and I'm going to score a goal into Hill 16. Lovely!"
Feeling nice and confident as he placed the ball on the spot, it slowly started to dawn on Paddy Andrews that he had not done a great deal to prepare himself for what was expected of him.
"It just hits me then as I'm standing there," he admitted. "David Clarke in the goal looks about 9ft tall and I realise I haven't probably taken a penalty since the mid-1990s playing Féile."
Sure enough, Andrews fluffed the penalty and Clarke got down well to save it. Only, the Mayo 'keeper parried the ball back into the Dubliner's path for what seemed an even easier chance.
"'Right, perfect,' I'm thinking, 'I've got another chance here,'" explained Andrews. "I take my time, the 'keeper is on the ground in the corner, nothing can go wrong here.
"Well, I've never seen a man move so fast in my life. David Clarke has gone from one side of the goal full stretch to the other side of the goal and saves the rebound.
"The ball comes to me for a third rebound, I just lunge at it but the Mayo lads are in there. Three chances to score and I missed them all."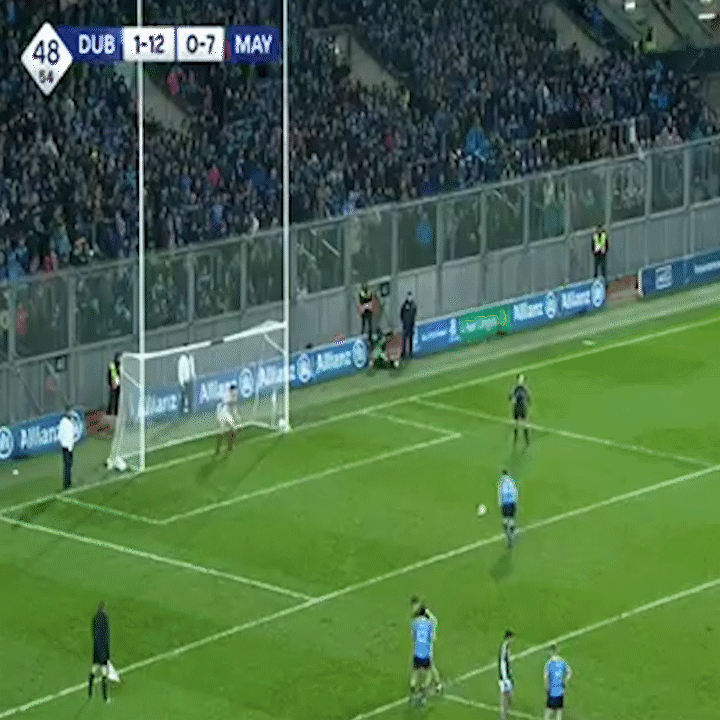 Despite that miss, Dublin ran out 1-16 to 0-7 winners on their way to what would ultimately be another hugely successful year for Jim Gavin's team.
As he arrived at training on the Tuesday night for a quick review of the game, Andrews was not expecting the man in charge to be overly critical.
That isn't how it panned out, however.
"Just as Jim is finishing up," he recalled, "he turned around to me, 'You, Paddy Andrews, when is the last time you took a f****** penalty?'
"I just froze. I could hear a few lads sniggering away in the background and I'm just desperately thinking of something to say."
Before he could, Cormac Costello, the former Dublin teammate Andrews refused to criticise for his own penalty misfortune this weekend, chimed in.
"Quick as a light he puts his hand up," explained Andrews, the crack of a team holiday for the reigning All-Ireland winners still obviously fresh in Costello's mind.
"He just says, 'Ah, Jim, I seen him take a penalty on the beach in the five-a-side in Jamaica and he scored it! A great strike as well.'
"The whole place erupts laughing and even Jim Gavin, he didn't laugh or say anything but he had that little smile on his face and he walked out."
You can listen to Paddy Andrews and Andy Moran with OTB's Tommy Rooney on Ep. 2 of the brand new The Football Pod right here