Enda McGinley was on OTB AM on Wednesday to preview the weekend's football and discussed the possibility of Kildare causing an upset to Dublin at the weekend.
"In the previous years we've really started to hope for Kildare, the thing this year I suppose is that hope is much lower than it has been."
"I think Cribbin and Daniel Flynn's loss just seems to hurt Kildare. They've been as inconsistent as ever really during the league and even the early stages of the Championship so we don't really know where Dublin are truly going to be tested."
Dublin don't appear likely to drop their guard either following on from recent performances.
"What they showed against Louth is simply that this team is just awesome. They aren't going to drop their guard at all really. By the looks of things, you'd have to say Kildare were the one team we were always hoping would catch them in Leinster."
McGinley believes it would be a shock if Kildare were to come out of the bout with a win.
"They appear further off the mark, maybe they can come out of nowhere this year when they've no pressure on them... it'd be an Anthony Joshua size of a shock if Kildare were to do that."
While Kildare don't look like the ones to beat the Blues, McGinley said that we could be more likely see a resurgence in Meath than Kildare.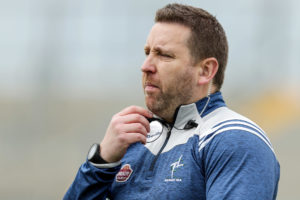 "Meath are exciting in Leinster. You're hoping, with the tradition, that Meath are coming back to their big days and there's signs there. Are they going to really be at Dublin's level?"
"It's hard to see. So Dublin look like they're going to take Leinster easier than ever and then they're into the super 8 when we'll only then start to see what level they're truly at. I've got a feeling they're going to be absolutely fine. I'm not overly concerned about Dublin."
Eoin Sheahan then asked the former Tyrone footballer what he would think if he were in that Kildare camp following Cian O'Neill's comments. O'Neill has come out and said that his side should beat the Dubs.
"Would you cringe or would you be delighted? Fair play to him for coming out but we have seen very little evidence that they are likely to do that. Maybe he knows something that we don't."
McGinley acknowledged Kildare's recent form but felt that it wouldn't be enough to catch the Dubs out
"Certainly they've started to hit form, some of their main forwards have started to come back. There were a lot of injuries during the league so the pressure is off them and maybe the team will say well the pressures off us, we do have a chance, we're not as bad as what we have made ourselves look earlier this year"
"If that's the case then maybe they can catch Dublin cold because Dublin certainly haven't done an awful lot in the league… but old habits die hard and I can't see Dublin being caught at all."
Download the brand new OTB Sports App in the Play Store & App Store right now! We've got you covered!
Subscribe to Off The Ball's YouTube channel for more videos, like us on Facebook or follow us on Twitter for the latest sporting news and content.