Carrying out their first increase of ticket prices since 2011, the GAA found one notable advocate - amid a number of detractors - for the decision in Monaghan's Dick Clerkin.
Joining OTB AM on the line this morning, Clerkin expanded on an initial point he raised via his Twitter account in the immediate aftermath of the announcement.
Staunchly defending what he perceives as the essential value of the GAA, Clerkin resented a situation where it was "open season [on the GAA] no matter what."
In the face of strong opposition, Clerkin laid out his understanding of why the furore surrounding the increase was something of a storm in a teacup.
"I'm going to Dublin and Monaghan on Sunday," Clerkin began.
"It cost me €15, I've the ticket in my hand [and] I'm taking my two boys for free.
"That's unbelievable value, by any metric.
"I don't care what you compare it to: sport, going to the cinema, if I take them to the swimming pool, it's going to cost me that."
An argument primarily based on the price of GAA tickets in comparison to other forms of entertainment available to families, Clerkin ultimately believes that irrespective of the rise in ticket prices, the GAA remains largely undervalued, if anything.
"It's great value," Clerking stated.
"Do people want the GAA to give them money at the gate? Would that make them happy?
Just because the players aren't paid, doesn't mean the value of the product isn't there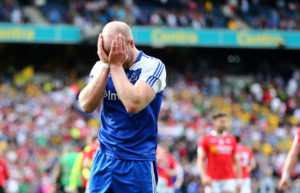 Uncomfortable discussing the timing of the GAA's decision, Clerkin didn't necessarily wish to link the "modest price increase" with the "disgraceful" budgetary issues afflicting the reconstruction of Cork's Pairc Ui Chaoimh.
However, delving into an issue he had previously discussed during his interactions regarding the issue on Twitter, Clerkin doubled-down on the notion that people shouldn't be so quick to pay higher prices for professional sporting events, while resenting an amateur organisation for rising its ticket prices.
"Just because the players aren't paid, doesn't mean the value of the product isn't there," Clerkin stated.
"I want to give my money to be entertained, that's why a lot of us go.
"If you want to go and watch Liverpool or Manchester United, you've no choice but to empty your pockets to bring your child. If they want to go watch Ireland play the All Blacks, you've no choice but to fork out, and that's alright?
"The GAA haven't gone down that route ... they're not looking to bleed supporters."
The decline in attendances at last year's All-Ireland semi-finals offered another bone of contention. With neither of the games coming close to filling Croke Park, Clerkin isolated an alternative rationale for this development that had little or nothing to do with ticket prices.
Furthermore, on the issue of rising ticket prices for the All-Ireland final, Clerkin distanced himself from the notion that such a rise would deter any passionate supporter from attending.
"With all due respect, an 8-year-old has no business at an All-Ireland final for €90," Clerkin believes.
"I was never at an All-Ireland final when I was an 8-year-old.
"If I want to bring [my kids], and pay €80 or €90, that's my decision.
"If you accept the logic [of paying these prices] for pro-games, how do you not accept accept the same logic for the GAA?"
Download the brand new OTB Sports App in the Play Store & App Store right now! We've got you covered!
Subscribe to OTB Sports's YouTube channel for more videos, like us on Facebook or follow us on Twitter for the latest sporting news and content.