Diarmuid Lyng joined OTB AM on Tuesday where he spoke about a play that deals with elements of toxic masculinity in sport.
Lyng recently worked alongside playwright Timmy Creed in the short film 'What is the Quest.I.On' that was aired at the Mount Shannon Arts Festival.
Creed wrote the play 'Spliced' that caused controversy with some GAA members feeling it showed the organisation in a negative light.
One scene from 'Spliced' forced Lyng to consider the behaviour of young men in a sports environment.
"There's a scene where it's after the game and it's in a pub, like Reardon's or somewhere in Cork. He's just describing it in general terms, but it's very much being out with the lads, get the women. The language of it, he doesn't hold back in the language of it and it's just being very real.
"Then he's also contrasting that with himself and saying 'this is not who I am. I am saying those things, I am acting in that way, I am disrespecting women by how I am looking at them, by how I am speaking about them - but it's not me, I'm just following.'
"Is this common in GAA clubs for young men? One of the hardest parts of this, particularly at the moment with the conversations that we are having, are we entitled to have these conversations at the moment, maybe not.
"But that is also a dangerous thing, this should always be up for discussion. Timmy in the end [of the play] outlines the possibilities of how we can all move forward, maybe stepping a little more into our power [within society] and encouraging our young men to step more into their power, to not follow in those bullshit stories that we maybe lazily do."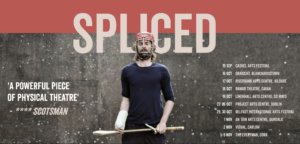 Lyng is aware that the conversation about how men act can get hijacked online and hindered by unhelpful language.
"In the interaction online at times," says Lyng, "I find it's very very difficult to not get bogged down in terminology and in the intellectual, who's right and who's wrong, 'this is my side, this is your side.'
"Like when I think about how to bring the conversation forward there's a lot of men who will be saying 'you're beta' or you're whatever they call men who are too influenced by their mothers."
Honest conversations
The former Wexford hurler has spoken about the dynamic between men and women before with Richie Sadlier some time ago, and the conversation came into his mind again.
"I was thinking about this again," said Lyng, "I can't hold my hand up from the age of 16 and say I'm blemish-free because I feel like I took part in a society where the subtle undertones of relationships between men and women [were ignored] at least the ones I hung around with. I knew what I understood from talking to them was, you couldn't want sex and physicality if you were a woman and you could if you were a man.
"That was seen as a base rule, you couldn't be seen to enjoy it because the boys would tell all the other boys and that would go around the little village, and then the village would castigate the woman as a slut or a tramp or whatever. That was something that happened very often.
"That was at that time what seemed like the interaction, but now it's becoming very clear that's no longer the way. Women thankfully are finding their voice and are starting to find their voice to deal with the trauma that's been going on with the imbalance of the relationship. That has to be honored and accepted.
"I think we still have to have open and honest conversations about it as men and not be afraid of it. I think there is a fear of weighing in in some way because just to be able, to be honest in it, is really important.
"I know this is far away from sport, but I think we have a huge opportunity in the GAA and other sports to help shape some changes. I have seen it in groups.
"I remember when I came back to Wexford after traveling and I saw a couple of things happen and I saw the result of it. I saw a woman picking a fella up on it and then got really embarrassed for picking him up on it.
"I was talking to her after and said 'that's the gift he needed, he needed that' and he's a fine fella for it now too."
Download the brand new OTB Sports App in the Play Store & App Store right now! We've got you covered!
Subscribe to Off The Ball's YouTube channel for more videos, like us on Facebook or follow us on Twitter for the latest sporting news and content.