Brian Cuthbert says that time and patience will be required if appropriate rule changes are to revolutionize the game of gaelic football.
Speaking on Tuesday morning's OTB AM, the former Cork football manager and one of the committee members involved in drafting new rule proposals for the game said that it will take time to tweak amendments to the game.
"We don't like change at the best of times - five changes at once might have been a bit difficult for people to swallow," he explained.
"But at the same time, I think there was negativity before any game was played from some quarters and that's fine too.
"The committee was very realistic in understanding that this is going to be a difficult sell, because of the level of change that we spoke about. But, at the same time, I think the committee was extremely concerned about where football was going.
"That was our biggest driver. There was a feeling that football was turning into a possession game - which is fine if that's the way people want it to go.
"If that's how we want it to go, we'll let it. But right now, we have to accept that the committee was put in place to examine robustly what was happening to introduce rules and rule changes that help the game evolve in a different direction."
With any rule changes there will be unintended consequences...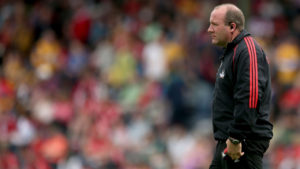 A limitation on the number of consecutive handpasses as well as the introduction of an attacking mark were just some of the proposals that were introduced to tackle 'negative' and 'defensive' football which has plagued the game in recent years.
Addressing the negative reaction their work in developing the proposed changes he said: "I read at the start that people were saying the methodology was too academic.
"Maybe that was a slight at the committee's chair and the fact that he's a professor. I've never been involved in something that was so robust and so well thought out.
"It went from discussion and video analysis, to engaging county boards, engaging the head of the referees authorities, engaging players through the GPA. All managers were written to, only 12 responded.
"The methodology behind the decision making process would stand up anywhere."
He added: "With any rule changes there will be unintended consequences - you can't predict what's going to happen until you try them out".
'People don't like change at the best of times - five changes at once might have been a bit difficult for people to swallow' 💭

Brian Cuthbert has his say on the negative reaction to football's rule changes 📺

Full Rule Changes Discussion 👉 https://t.co/cQUaBp8snn 🎥 pic.twitter.com/qhURHkBvFS

— Off The Ball (@offtheball) January 15, 2019