On the weekend that would have seen the GAA championship step up a gear with Kerry and Cork facing off in the Munster football championship, we spoke to Cork's Daniel Goulding and Kerry's Darran O'Sullivan about what makes the rivalry so special.
Naturally, talk eventually turned to the issue of restarting GAA matches in the coming months.
When asked to react to GAA president John Horan's comments suggesting that games cannot resume while social distancing measures are still in place - both players agreed with his assessment:
"If social distancing is in place it means that there's an unacceptable risk for the public to go back to normal. I suppose there's nothing closer than two lads marking each other in a corner of a pitch," the former-Cork star Daniel Goulding told OTB.
"I don't think 'the issue' is the fans, the issue is the 15 players on both teams and the panels and the setup. I suppose until the risk is acceptable to go back without social distancing, I'd be inclined to agree that you can't do it," he continued.
This playing behind closed doors debate is baffling me! Fans are obviously amazing and I loved every drop of atmosphere they created but I would take your hand off to represent my county again, spectators or not! We play because we love the game end of, Am I missing something?

— Bernard Brogan (@bernardbrogan) May 22, 2020
Reacting to Alan Brogan expressing his belief that inter-county players should embrace the chance to resume action, even behind closed doors -Darran O'Sullivan believes that these statements miss some of the complications which closed-door games still throw up.
He believes that it would be unfair to ask players to take to the field, regardless of the presence, or absence, of fans:
"I just don't think it's for me... I don't think it's the supporters, you've players. You don't know what their personal circumstances are. They're going to be 'shoulder to shoulder' and pulling and dragging someone and they don't know where they've been either? It's just not for me."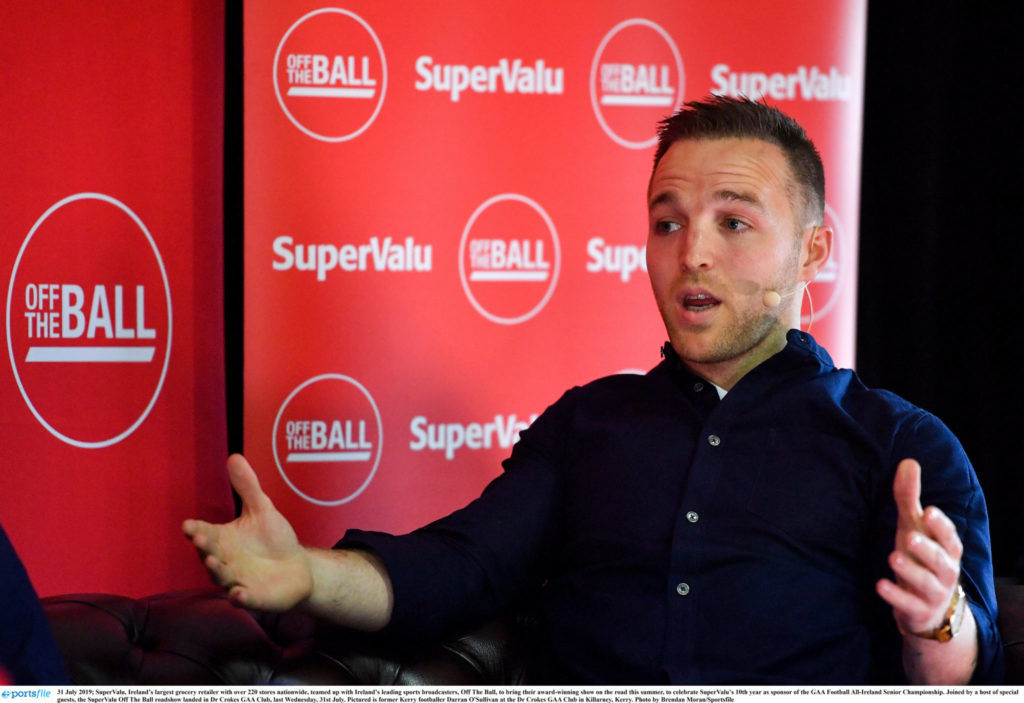 Pictured is former Kerry footballer Darran O'Sullivan at the Dr Crokes GAA Club in Killarney, Kerry. Photo by Brendan Moran/Sportsfile
He added that he agrees that while the rest of society is socially distancing - football cannot be an exception:
"I've a bar and restaurant down in Glenbeigh. We're currently trying to move tables and chairs around the place to social distance. How can you expect to social distance on a field?
"You know, you're expecting everyone to do it in everyday life. Daniel would tell you now being in the corner, a corner-back pulling and dragging out of you, it is fairly hard to social distance..."
Subscribe to Off The Ball's YouTube channel for more videos, like us on Facebook or follow us on Twitter for the latest sporting news and content.