As Bernard Brogan sat down for a series recap of his new podcast on OTB Sports, the former Dublin footballer delivered an impromptu clinic in skills development. 
Despite having enjoyed a career with Dublin that brought every imaginable success, Bernard Brogan cannot but wonder what he could have done with the unusual circumstances of our current situation.
"Times like this is when people can hone their skills," he began on the series recap of his brand new podcast on  OTB Sports. "I'd love to be in the middle of my career at the moment, getting out and having a bit of free time in the week to get after the skills that are important to you."
A long-term fixture in the Dublin panel who made his championship debut in 2007, the former Footballer of the Year delved into his means of self-improvement during his playing days.
"For me it was just getting out and practicing 50 kicks a night getting that striking well," he recalled of how his preparation went. "Not even from too far out, just making sure my percentages were up around 80/90/95%.
"Left and right, I used to just go around the arc of the D and put 10 or 15 balls around the D. I'd go with my left foot and when I got to halfway I'd turn to my right foot and go back to the end."
*****
Related Reads:
Bernard Brogan charts the development of Dublin's competitive edge
Marking Bernard Brogan 'like trying to keep the tide out' | Marc Ó Sé
The Brogan Family | 'No coincidence that three of us ended up in Dublin panel' 
*****
"I'd do that three or four times all the way around. If you can get that to 100%, where every time you strike the ball you know it's going over, you can bring it out five yards and out five yards.
"I'd love to be in that place now where I could do that four or five times a week. If I was an inter-county player now… that's what made me, what gave me the confidence I suppose.
"That's what it's about. Having that inner confidence."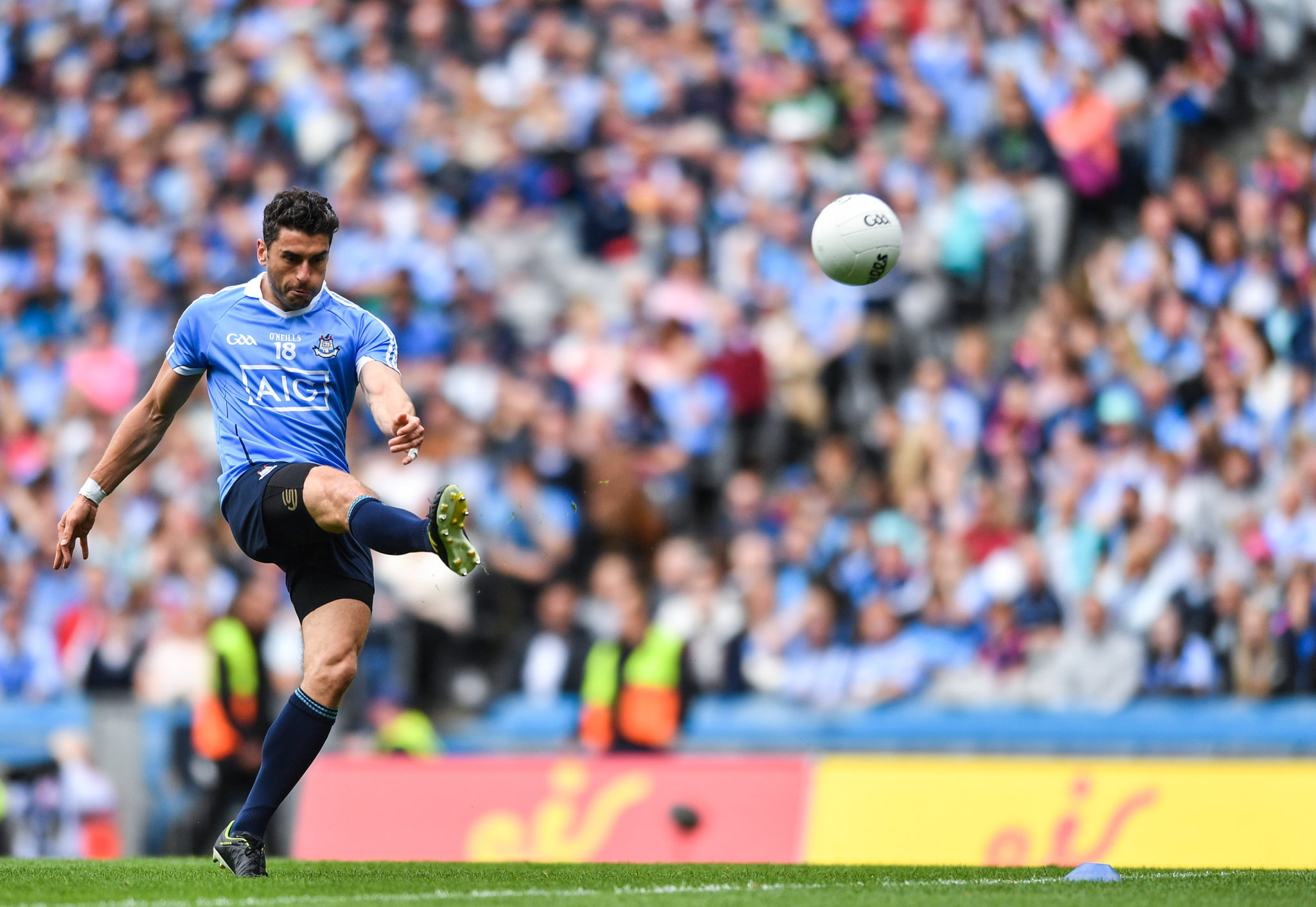 With such a rigorous approach to individual improvement, the multiple All-Ireland winner explained how knowing that he had this hard work done helped him in match situations.
"I didn't always play well or score what I wanted to score," he outlined, "but I felt as if I was there and I had the preparation done.
"In other years when things went well I sometimes look back and say I didn't do enough. Genuinely, I'd say, 'Jeez, I won an All-Star that year but I didn't feel like I did enough. I could have been a lot better.'
"I always try to get back to that. Why I didn't feel I was good was because I didn't feel I put in enough effort off the training park.
"We all train as a team but the magic for high performers is the time you spend away from the group and what you're doing then. That for me is the key."
Listen back to the first series of Bernard Brogan's podcast in association with SuperValu:
Ep. 1 - Tadhg Kennelly
Ep. 2 - Tommy Bowe
Ep. 3 - Shane Lowry
Ep. 4 - Jack McCaffrey 
Ep. 5 - The Brogan Family
Ep. 6 - Series 1 Recap
Download the brand new OTB Sports App in the Play Store & App Store right now! We've got you covered!
Subscribe to Off The Ball's YouTube channel for more videos, like us on Facebook or follow us on Twitter for the latest sporting news and content.