As part of the OTB Gold series, Off The Ball is bringing you selected articles from classic interviews of ours. This week, Jimmy Burke...
Anyone who has seen the movie 'Goodfellas' might associate Henry Hill (Played by Ray Liotta in the film) and Jimmy Burke (the inspiration for Jimmy 'The Gent' Conway, played by Robert De Niro) with crimes such as murder and robbery.
Although proving his involvement with these crimes proved difficult for federal prosecutors, the notorious gangster Burke slipped on a banana peel by involving himself with a point-shaving scheme with Boston College in 1978.
In 1980 Henry Hill was arrested and agreed to turn informant for the authorities. Their aim was to convict Burke of robbery.
Fixing college basketball games turned out to be Burke's route to prison.
Off The Ball spoke to the head prosecutor of the case, Ed McDonald. 
"It was just kind of a fluke", explained McDonald when speaking to Ger Gilroy on Off The Ball in 2016.
      
"[Hill's girlfriend] said the weekend she met Henry they travelled to Boston and she wouldn't tell me what they were doing there, so I brought Henry back in and said, 'Henry, what were you doing there?' And he said, 'We were fixing college basketball games'", McDonald explained.  
This was Burke's route to prison; "That's what we ended up getting him for".
How this happened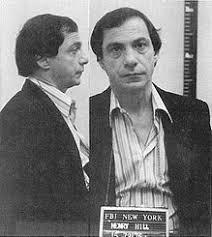 "Henry became a figure of interest because we knew that he was involved [in the Lufthansa robbery] from informants who were reporting to the FBI.
Henry was arrested on state narcotics charges," explained McDonald.
"We grabbed him and persuaded him that he was really being targeted for execution because he had been dealing in narcotics which was not permitted by the Lucchese crime family.
He realised he had no hope but to co-operate." McDonald proclaimed.
"He agreed to cooperate in the Lufthansa case, but we began to debrief him on a whole variety of different things.
We wanted to know all the crimes that he was involved in and the Boston College point-shaving case just came up in an ironic kind way," McDonald told Ger.
Due to his deal, Hill was obliged to inform the authorities about any criminal activity he was involved in. Hill apparently believed he had done just that at this point.
"Henry said, 'Why are you so interested? Fixing basketball games can't be a crime' - He didn't even realise the significance of the whole thing", said the American prosecutor-turned-actor.
"He probably never would have mentioned the case but for the fact that this woman told us that she was up in Boston with Henry the first weekend, she met him and we just sort of fell into it.
He didn't think that bribing college basketball players was a crime", explained McDonald.
McDonald was completely unaware of Burke's involvement with his beloved Boston College basketball team, who he follows to this day.
He was a federal prosecutor who was coordinating the investigation of the Lufthansa cargo at the JFK Airport robbery.
"At the time it was the largest robbery in the history of the United States. Five million dollars in cash and over a million dollars in jewellery [was stolen]".
Many participants in the robbery were found dead days after the event, the co-ordinator of the investigation explained:
"What was really going on I think was that Jimmy Burke, who was the main figure in setting up the robbery, wanted more money for himself."
How did Burke end up involved with this? 
When asked about Burke's motivation for fixing college basketball games, McDonald told us: "Henry was approached by a fellow from Pittsburgh, by the name of Mazi. One of the players was from Pittsburgh. 
"He got friendly with Mazi and Mazi realised in order to make a point-shaving scheme work you have to place bets with illegal bookmakers, and if they got wise to the fact that the games were being fixed, then they wouldn't pay off, so they needed muscle," said McDonald.
Mazi said, 'I can get this guy Henry Hill, he's connected to heavyweight organised crime figures in New York, they can set up a whole network of bookmakers for us", McDonald explained.
"Jimmy had a stamp of approval on anything Henry did and of course when they got into it Jimmy was putting up the money because the point-shaving arrangement coincided with the Lufthansa robbery.
"All of a sudden they had millions of dollars to gamble on college basketball games, and they knew if the games were fixed, they would make a lot of money."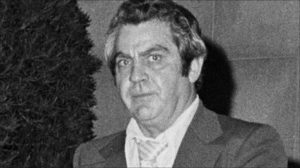 "Two years passed by before investigation went on, they thought it was behind them," explained McDonald.
The scheme, which involved winning games by small margins when bookmakers had predicted a large one, wasn't successful, according to McDonald. "At the end of the day, they ended up losing money", said McDonald.
Uncovering the scheme
McDonald believed that this was their best opportunity to prosecute Burke, saying: "We felt after investigating what Henry told us that we would not be able to get sufficient corroboration to prosecute Burke – so we didn't prosecute him for the Lufthansa robbery".
"So, then we set out to find corroboration for what Hill said about the Boston College point-shaving case and that proved to be somewhat easy because we were able to interview the kids [on the Boston College basketball team]".
Two players cooperated with McDonald, and solid evidence was found through previous phone calls and records of money orders.
Rick Kuhn - the player who was originally recruited for the scheme - refused to co-operate and was sentenced to ten years in prison for his involvement.
Mcdonald always felt sympathy for him and feels Kuhn was, "beguiled by the wrong people... then he was snookered by his own lawyer... the case against him was overwhelming, he should have pleaded guilty and cooperated from day one, but I think that his lawyer suckered him into going to trial".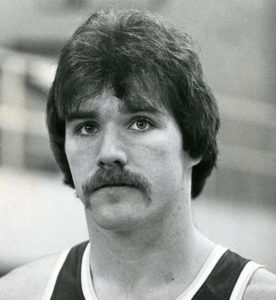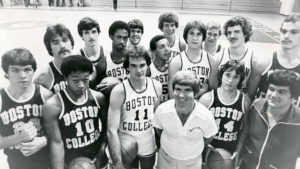 The prosecution 
Burke was found guilty and sentenced to 20 years in prison, which was later reduced to ten years.
"I sometimes used to think that Burke must have been thinking to himself, 'what is McDonald thinking about here? I did Lufthansa'", the former federal prosecutor told Off The Ball:
"You know, supposedly he killed 25 people, he ran all these major racketeering groups out in Queens and Brooklyn - 'and they're prosecuting me for fixing college basketball games, and basically all I did was say to Henry, 'alright, go ahead', and then I'd line up a bookmaker to take bets'", McDonald said, before acknowledging the absurdity of the situation: "He probably didn't even think it was a crime, and that's what we ended up getting him for".
While serving his ten-year sentence for the point-shaving scheme, enough evidence was found to convict Burke of murder, which led to him receiving another sentence of 20 years in prison.
Burke died in prison while serving this sentence in 1996.
McDonald starred in 'Goodfellas'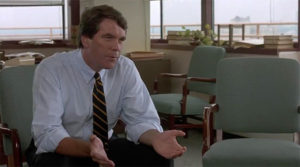 The series of events in Hill's life and this scheme inspired books and films, including the timeless 'Goodfellas'. Mcdonald later played himself in this film, which was inspired by the events of Henry Hill's life and Burke's downfall.
"There's an expression -'you can't make this up', that's how I felt about this, it was just kind of crazy", said Mcdonald about his involvement with the iconic 1990 film.
"There was a book written about Henry... then next thing you know it becomes the movie 'Goodfellas'. As a joke, I volunteered to play myself in the movie. They said, 'it might be interesting to have a real-life prosecutor come in and play himself'", McDonald told Off The Ball.
"It was a lot of fun; I've been telling a lot of stories about it for the last 25 years", said McDonald.
You can listen to the full interview with Ed McDonald below:
*Feature image via: https://filmschoolrejects.com/martin-scorsese-perfected-voiceover/
Download the brand new OTB Sports App in the Play Store & App Store right now! We've got you covered!
Subscribe to OTB Sports's YouTube channel for more videos, like us on Facebook or follow us on Twitter for the latest sporting news and content.