All this week in Off The Ball we've been asking you to tell us about your favourite sporting memories that you shared with your father.
Below are just some of those priceless anecdotes and memories to last a lifetime.
Enjoy!
***
Cian's Memory
For many people, their favourite sporting memory is often their first. Mine was no different. The initial exposure to live sport is something that will stay with me forever and was one I shared with my Dad.
An FA Cup third round match was my first taste of top-level live football. Manchester United welcomed Portsmouth to Old Trafford on 4 January 2003 and my eight-year-old self could hardly contain his excitement.
David Beckham and Paul Scholes scored during a 4-1 victory in Manchester, but it was Ruud van Nistelrooy's double that I cheered loudest. The Dutchman, this writer's idol at the time, converted twice from the spot and from the almost the highest point in the stadium, I celebrated as though he would hear every word of praise I lauded him with.
My Dad brought me to the game that morning. We travelled across the Irish Sea on the first ferry of the morning with only cocktail sausages wrapped in tinfoil to sustain us until we landed on English shores.
The entire way home I relived the match with him, play-by-play. An experience I'll never forget.
***
Raf's Memory
Back in the late '90s, I used to do a bit of karate and that was all down to Dad. He used to take me down to our local Green Dragon club in Carrick on Shannon every Saturday and to all my tournaments around Leitrim and Sligo.
I only ever won a gold medal once and as always t'was good to have the 'oul lad looking on - especially as I haven't won a sporting medal since.
***
Stephen's memory
I was too young to remember the first sporting event my Dad took me to, the All-Ireland Football semi-final between Dublin and Cork at Croke Park in 1983. My Dad and my late, great uncle Tony brought me along to Croker and lifted me over the Hill 16 turnstiles to watch the Dubs draw with the Rebels. Much to my Mam's relief, they felt that the long journey down to Cork for the replay in the back of a Hiace van with no seats was not for me.
Thirty years later, the three of us and Tony's son Derek joined the Blue faithful to see Anthony Daly's hurlers make history. Dublin hurling had been in the doldrums for so long but on July 7, 2013, they hammered the bejaysus out of Galway to win the Bob O'Keefe Cup for the first time in 52 years. Croke Park was drenched in sunshine and Dalo's Dubs were magic. A special day and a cherished memory.
***
Colm's Memory
Cork vs. Kerry in the All-Ireland football semi-final in Croke Park on August 25th, 2002. My dad and I were joined by a Cork GAA-obsessed family friend as the three of us made the journey up to the capital on the morning of the game, expecting great things.
There were only six points in it with 10 minutes remaining but Kerry ran out comfortable victors in the end. Nevertheless, it was a magical occasion because of the craic during the trip, the atmosphere in the stadium and the hope!
The weather was incredible - not a cloud in the sky - as the family friend insisted that he'd "chance the wet gear". A match-goer as experienced as this man would be a fool not to prepare for the four-seasons-in-one-game that a GAA encounter often presents. Bad result but a great day out and one that has stuck with me forever, regardless of the outcome.
***
Arthur's Memory
There was very little from Limerick's All-Ireland final defeat of Galway one could claim to have enjoyed bar the final whistle itself.
Although the sight of Tom Condon bursting out from the Limerick goal with Joe Canning's under-hit sliotar in hand preceded a moment of great relief, the most cherished sporting moment I (a Sligo native) shared with my father (the Limerick link) came a few weekends before against Cork.
Chasing rather than chased on this occasion, our seats in Croke Park's lower Hogan stand provided ample viewing for a moment of such clinical, carefree scoring that all but guaranteed Limerick's progression to the final.
In his execution of a lobbed goal, Pat Ryan allowed for a rare moment of reflection amid the madness; that split-second where the sliotar had left Ryan's hurl but not yet reached the back of Anthony Nash's goal constituting my favourite sporting moment.
Realistically, Shane Dowling's converted penalty shortly before had been the winning of the game. Yet, for whatever reason, that brief moment between two certainties remains the stand-out moment where anything at all appeared possible.
***
Bryan Dunleavy's Memory
Ireland vs. South Africa in the autumn internationals.
My dad was playing in the band that did the anthems at the start of the game. He thankfully couldn't get a babysitter so one of the nice stewards at the old Lansdowne were happy to believe that a nine-year-old with an Army band cap and a French horn was there to play Amhrán na bhFiann.
I stood on the sideline as Keith Wood and his team played heroically for 20 minutes against the world champions.
Paul Barry's Memory
First match with the father. 1995 all Ireland semi-final Cork v Dublin. He dressed me in the neighbours Sheffield United jersey. That's the father behind me topless. His friend Mark o Connor was marking Jason Sherlock and they swapped jerseys at end of the match. Mark gave me Jayo's jersey and I still have it. I remember wearing it home with grass stains and sweat all over it. Great first Croker trip.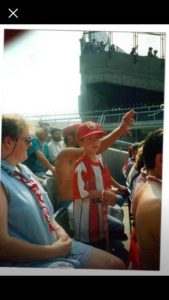 The Brown Thomas Sunglasses Promotion is on now until Sunday 9th June in all Brown Thomas stores and on brownthomas.com. Right now, you can receive 20% off the biggest selection of sunglasses at Brown Thomas and Brownthomas.com.
Download the brand new OTB Sports App in the Play Store & App Store right now! We've got you covered!
Subscribe to Off The Ball's YouTube channel for more videos, like us on Facebook or follow us on Twitter for the latest sporting news and content.