The 2020 NFL season returns as scheduled next week. Despite players testing positive this week and despite the absence of preseason games, the regular season will start on time. Patrick Mahomes and the Kansas City Chiefs will open the season against Deshaun Watson and the Houston Texans.
After receiving their Super Bowl rings from last season, the Chiefs are one of the favourites to win the Super Bowl again this year.
But the NFL season isn't typically so straight-forward. Even the Chiefs weren't favourites to win the Super Bowl last year when the playoffs began. They were losing in all three of their playoff games. The margins for Mahomes are wider than they are for most quarterbacks but they're still not wide. The NFL season is also peculiar in that each team doesn't play everyone else in the league.
Each team plays their division opponents twice, then they play the teams from two other divisions and then they play teams based on their record from the previous season. As such, the NFL season is built to push teams towards each other in the middle. Regular season records are not reflective of who are the best/worst teams in the league because the best teams often play each other more than they play the worst teams in the league.
Yet, when you go through this year's schedule, there's a notable lack of a middle class.
In the below chart are Off The Ball's predictions for each game this year. A green box indicates a win and a red box indicates a loss. For example, the Baltimore Ravens, who are the first team in the chart, start against the Cleveland Browns and at the Houston Texans before playing the Chiefs at home. The Ravens beat the Browns and Texans in this prediction, so those boxes are green.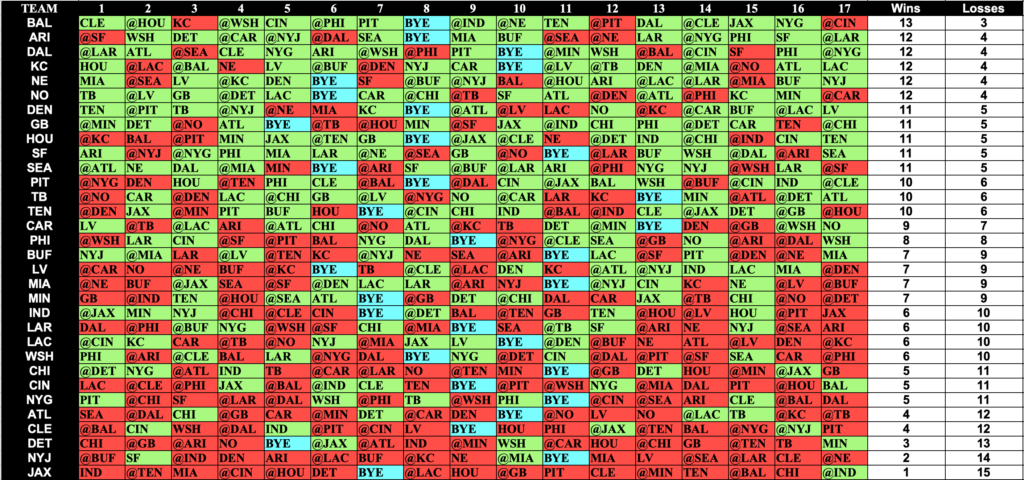 To find the result of any specific matchup in this chart, locate the team on the left then scroll across.
At the end of the chart are each team's overall results. Notably, there is only one team in the whole league who finishes 8-8. Despite the NFL pushing teams toward the middle to avoid having perfect seasons and winless seasons, this year is set up to create a serious divide. Part of that divide is a function of the upcoming draft. It's clear that the Jacksonville Jaguars are tanking for Trevor Lawrence.
Lawrence is the quarterback at Clemson. He's been a superstar in college football and the presumptive first-overall pick in the 2021 draft since he left high school. He's exceptional. The Jaguars have blown their team up, trading away many of their best players to stockpile draft picks.
It's the same approach the Miami Dolphins took last year, an approach that ultimately failed.
At the other end of the table, there are 14 teams winning at least 10 games. And, fortuitously, there are seven AFC teams and seven NFC teams making up that group. The NFL has added two teams to the playoffs this season. There will now be seven teams making the playoffs from each conference. Only one team in each conference will get a bye to the Divisional Round.
In this scenario, the Tennessee Titans and Tampa Bay Buccaneers would be the benefactors of the expanded playoff format.
Injuries will decimate the best of predictions. And this year Covid-19 always looms as the heaviest of spanners to drop into the works. Picking each game at this point is largely pointless, but there are records in there that offer more confidence than others. That becomes interesting when looking at season-long over-under bets.
Best Overs
Houston Texans OVER 7.5 wins
The Texans' reputation has taken a beating over the offseason. Deservedly so. Bill O'Brien has killed the optimism in the franchise by trading away DeAndre Hopkins, Jadeveon Clowney and Duane Brown in successive years. Throw in that gaff in the playoffs last season and O'Brien is probably coaching for his job. But 7.5 is a low line.
O'Brien for all of his failings has only won fewer than nine games in the regular season once during his six seasons in Houston. That was three years ago when Deshaun Watson was injured. The Texans won 10 games last year and 11 the year before. They're a worse team this year but the AFC South is also worse.
The Titans are worthy opponents but the Indianapolis Colts went all-in on a washed-up Philip Rivers and the Jaguars are tanking. It's likely to be a very rough start to the regular season with the Chiefs, the Ravens and a road game in Pittsburgh to open up, but after that the Texans have a very easy schedule.
Arizona Cardinals OVER 7.5 wins
Kyler Murray is unlikely to be as good as Lamar Jackson was during his second season, but that's the path he's on. Murray had a very impressive rookie season. He was very accurate and capable of creating big plays. His upside is huge, especially now that he's throwing to DeAndre Hopkins. Adding Hopkins completely alters the identity of the offence.
Christian Kirk becomes a high-end second starter. Larry Fitzgeralds becomes an exclusive slot receiver. As complementary pieces to Hopkins, both will thrive. Kenyan Drake and Chase Edmunds taking over the backfield for the departed David Johnson is actually an upgrade.
Defensively, the Cardinals made smart additions with Dre Kirkpatrick and Jordan Philips.
Kliff Kingsbury isn't a revolutionary coach. His offensive system is just a spread. There's nothing particularly creative or different about it, but it does work well with Murray and he didn't have any red flags during his first season in charge. The Cardinals won five games last year and got significantly better this year. Their schedule is favourable too.
Carolina Panthers OVER 5.5 wins
When the Carolina Panthers lost Luke Kuechly in the offseason it appeared certain that they would rebuild. Kuechly was the face of the Panthers defence for as long as he was in Carolina. His premature retirement came on the back of his worst season in the NFL though. Kuechly and the rest of the Panthers front seven couldn't stop the run last year. That and Cam Newton's absence sunk their season.
Newton is now a Patriot and the Panthers have turned to Teddy Bridgewater. Bridgewater is an outstanding quarterback. His presence suggests the Panthers aren't going to bottom out. Then when they brought in Robbie Anderson, Russell Okung, Matt Paradis, Stephen Weatherly and Eli Apple, the Panthers went from irrelevant to intriguing.
While lacking in name commodities, the Panthers made smart move after smart move this offseason. They have put themselves in position to push for the playoffs rather than the first-overall pick. They also landed Derrick Brown in the first round of the draft, a defensive tackle who stood out as the most likely prospect to immediately impact the NFL. Brown can be an integral part of a stout, young defensive line that turns the Panthers defense in the right direction.
The biggest obstacle to this team winning six games is their tough schedule. Playing in the NFC South this year is going to be a challenge for everyone.
Dallas Cowboys OVER 9.5 wins
The Dallas Cowboys didn't have a great offseason. While moving on from Jason Garrett (a great decision), Jerry Jones and company immediately hired Jason Garrett 2.0 in Mike McCarthy. The former Green Bay Packers head coach is an ultra-conservative, bland play-calling head coach. He was the anchor that held Aaron Rodgers down throughout his prime.
Now the Cowboys want him to do the same to Dak Prescott.
But outside of McCarthy, the Cowboys added CeeDee Lamb in the draft. Lamb is an instant impact receiver who will add another dimension to a Cowboys offence that was already loaded. Amari Cooper, Michael Gallup and Lamb together can't be covered by any secondary. Travis Frederick's retirement won't hurt much since he had a down year last season. His replacement, Joe Looney, was arguably better when he filled in two years ago.
Everson Griffen is a great get on the Cowboys defensive line. He's still one of the best defensive ends in the league. Pairing him with Demarcus Lawrence should create a terrifying tandem upfront that the Cowboys can build their success on. Leighton Vander Esch missed a lot of last season through injury. Having him healthy will be huge for the defence's improvement.
Aldon Smith is also lingering as a potential impact arrival. But he's a hope rather than an expectation. The Cowboys underachieved last year. They could underachieve this year relative to their talent and still win 10 games.
New England Patriots OVER 9.5 wins
This is cheating a little bit because this is only a confident pick if Cam Newton is healthy. If Cam Newton is healthy, the Patriots will waltz to 10 wins. Even with so many players opting out because of Covid-19, the Patriots still have enough talent to pummel their way through the AFC East. And pummel is a purposeful word there.
While Tom Brady departed, the health has returned to the interior of the Patriots offensive line. They have one of the best interior lines in the league. It's a group that can maul through opponents, they memorably did that to the Chiefs in the AFC Championship two years ago. With Newton and Sony Michel running behind them, Bill Belichick is ready to invert his offence and become a run-heavy unit.
Belichick is still the great equalizer. He's by far the best coach in the league. He's by far the best coach in the AFC East. If he has competence from his quarterback, the Patriots will be Super Bowl contenders again. Watch for N'Keal Harry to have a breakout season too.
Best Unders
Jacksonville Jaguars UNDER 4.5 wins
The Jaguars aren't trying to win. The biggest concern here is that the Jaguars have consistently failed since Shad Kahn bought the team. So if they're trying to lose games, they'll probably fall into winning too many. The Dolphins did that last year in large part thanks to Brian Flores.
Flores was a new head coach with the energy and desire to prove himself. The Jaguars didn't appoint a new head coach this offseason and it was likely to avoid such a thing. Doug Marrone is a carryover who likely knows he'll be let go sooner rather than later. He was kept on so the Jaguars could reassess their options at a later date.
Gardner Minshew is fun, but he's not good. Even if he was, there's a dearth of talent in Jacksonville so winning four games would require a miracle.
Weirder things have happened...actually, they haven't.
Los Angeles Rams UNDER 8.5 wins
Since the Super Bowl two years ago, the Rams have been on a decline. It's not just about their results. They went all-out for the short term with their moves and it's led to roster construction issues. Todd Gurley is gone without a proven replacement, as is Brandin Cooks after he was traded (again). The offensive line is made up of misfit toys and Jared Goff was very lucky last season not to throw 25+ interceptions.
And the offence is where the Rams are good.
Defensively, it's Aaron Donald, Jalen Ramsey and a bunch of guys. Michael Brockers and John Johnson are fine but there aren't real impact players at different spots on the Rams defence. If Donald doesn't take over the game on his own, the Rams are unlikely to win. Samson Ebukam has shown flashes and Leonard Floyd remains athletic but ineffective. Cory Littleton left a void that hasnt' been filled in the middle of the defence after signing with the Raiders.
Add in a schedule that has very few easy games and the Rams are more likely to be picking in the top five of the draft next year than contending for the playoffs this year.
New York Jets UNDER 6.5 wins
Sam Darnold has been a disappointment through two seasons of his career. He entered the league with huge upside but hasn't begun to reach it. Adam Gase isn't a coach who has proven himself capable of developing players at any position either. Gase is attempting to help Darnold by adding as many offensive linemen as he possibly can.
The Jets added seven offensive linemen this offseason. All five of the free agents they signed are either low-end starters or backups. Mekhi Becton, the tackle they picked high in the first round, is a developmental prospect who is unlikely to be good as a rookie. Signing seven offensive linemen sounds great but not when none project as good starters.
It's likely to be another season where Darnold is under far too much pressure.
And worsening matters, the Jets traded Jamal Adams away to the Seattle Seahawks. Adams brought back huge equity that will help the Jets rebuild moving forward. It won't help them in 2020 though. The defence was already lacking playmakers before the Adams trade. Winning seven games would require collapses from the Patriots and Dolphins as well as implausible victories against good teams on their schedule.
Atlanta Falcons UNDER 7.5 wins
Dan Quinn is coaching for his job this season. The Falcons have won seven games in each of the last two seasons despite everything going wrong. Two years ago they lost half their defence to injuries, last season they went in on two first-round offensive linemen to fix their offence and both suffered injuries. In theory, the Falcons should be good value coming off those seasons.
The problem is Matt Ryan's age is impacting his performance to the point that a sudden drop is looming and the Falcons' schedule is absolutely brutal.
Quinn arrived in Atlanta as a defence-oriented head coach. The signs were good early when Deion Jones and Keanu Neal became young stars. But the group has lost its way since then. They're relying on Dante Fowler to be an impact player after arriving in free agency. Fowler was an effective complement to Aaron Donald in Los Angeles. He can be the same for the Falcons with Grady Jarrett filling the Donald role. It's just not likely to have the impact they hope it does.
Chicago Bears UNDER 8 wins
The Chicago Bears couldn't have had a worse offseason. They traded for Nick Foles when Marcus Mariota and Cam Newton were available for free. Foles, the NFL's mirage of competent quarterbacking, is no solution to the Mitchell Trubisky problem. Then they signed Jimmy Graham, a tight end who can barely move, to start a long with Ted Ginn, a speed receiver who is losing his speed because of age. Germain Ifedi, one of the league's worst offensive linemen of recent years, was signed to start at guard.
In short, the Bears did everything they possibly could do to make a bad offence worse this offseason. The sad part is if they changed their scheme to simplify Trubisky's reads and incorporate his rushing ability more they could have solved a lot of their pre-existing conditions. But that would require Nagy admitting fault which isn't something he's fond of doing.
Defensively, Robert Quinn should be an excellent addition to Khalil Mack and Akiem Hicks. Prince Amukamara is a significant loss outside but the Bears still have a lot of talent on defence. Probably not enough to overcome the offence though.
Download the brand new OTB Sports App in the Play Store & App Store right now! We've got you covered!
Subscribe to Off The Ball's YouTube channel for more videos, like us on Facebook or follow us on Twitter for the latest sporting news and content.